*This post may have affiliate links, which means I may receive commissions if you choose to purchase through links I provide (at no extra cost to you). As an Amazon Associate I earn from qualifying purchases. Please read my disclaimer for additional details..
Hiking boots are timeless, versatile, and easy to pair with most outfits.
The idea of wearing hiking boots with jeans may initially sound uncomfortable or seem mismatched. However, with the right pairing, it's easy to get a good fit and look stylish.
You can wear hiking boots with jeans by getting the right color to match the hiking boots. The right cut also blends well with hiking boots, so you don't have to worry about the jeans bunching up around the top. Alternatively, covering the shaft of your hiking boots with wide-leg or flare jeans creates a clean, neat look. 
Our detailed guide covers in detail tips you need to know about wearing hiking boots with jeans.
7 Tips to Wear Hiking Boots With Jeans
If you're planning on pairing your hiking boots with jeans, you need to consider certain factors:
1. Choose Your Jeans Wisely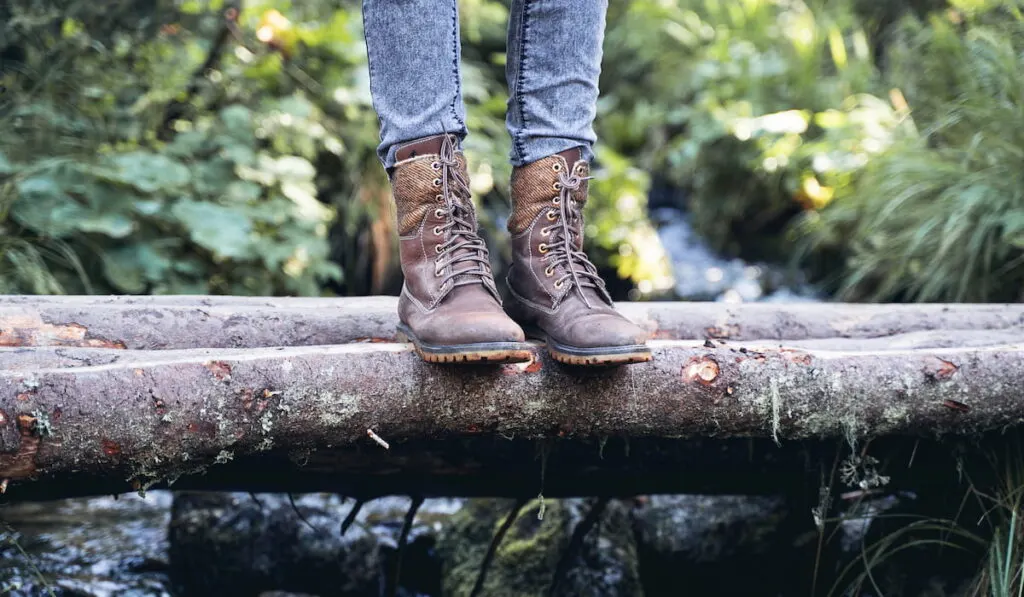 Jeans don't have to be uncomfortable if you're going on a short hiking trail. However, choosing the right cut and fit of jeans is essential, as this could make or break your trip. 
Stay away from loosely fitted jeans or boot-cut jeans. These jeans will leave the material bunching up around the top of the boots.
Conversely, if you leave them untucked, you may find bootcut jeans getting caught under the hiking boot if it's too long. That could tear the bottom of the jeans apart. 
Additionally, loose jeans tend to attract insects, broken twigs, acorns, leaves, and other things in the forest as you're hiking. You'll carry items you didn't intend to, making your hiking experience dreadful.
Choose form-fitting skinny jeans if you are going hiking, as the hiking boots will fit right over the pants. 
Cropped denim pants that fall just above your boots are also an excellent option. When wearing cropped jeans, ensure there isn't too much skin between the top of your boots and the bottom of your jeans. 
You can opt for boyfriend jeans or wide-leg denim pants cut off at the ankle for a breathable fit.  
Straight-leg jeans are also great as they fit straight down to the bottom. You can tuck them inside your hiking boots if they are too long.
Ensure you wear heeled hiking boots under straight-leg jeans to elongate the leg. You can avoid bulkiness by pairing a boot that fits close to the calf. 
Also, straight-leg jeans with a short hem are fantastic as they don't cover your boots. 
Some jeans retailers sell jeans designed for hiking. Although they are made from denim, they are lightweight and resist moisture compared to regular jeans. 
2. Get the Right Length of Jeans
The right length of jeans is essential when pairing them with hiking boots.  
Opting for a very short pair of jeans exposes your hiking boots, which translates to inflammation around the exposed skin and on your ankle area. 
The proper length of jeans allows you to leave them out or tuck them in if you wish. Get a pair that reaches the boot's top, not above or below. 
3. Roll the Cuffs of Your Jeans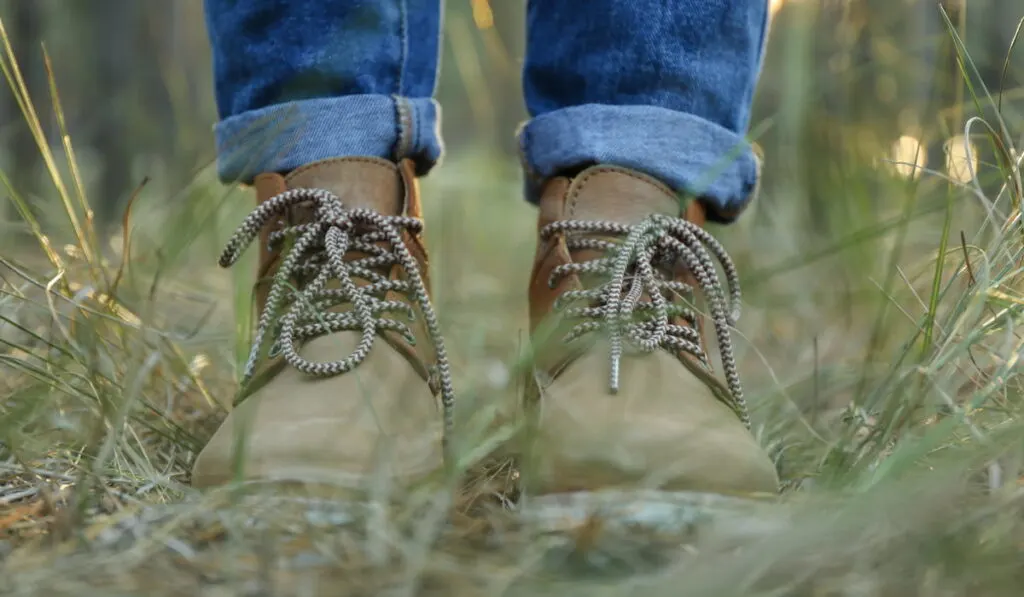 If you own jeans that are too long and still want to pair them with your hiking boots, you should consider cuffing them.
Cuffing means rolling up the bottom of the jeans to the height you are comfortable wearing with hiking books.
Consider cuffing jeans that are not very skinny at the ankle or too long to hit above your boots. Jeans that can be paired with taller hiking boots are good candidates to cuff.
All you need is to hold your jeans' lower end and fold them up. Sometimes the jeans may appear too wide when they are cuffed.
Alternatively, you can pinch your jeans if they look too wide at the bottom:
Take a corner of the jeans' fabric at the bottom and pinch it together.
Using your forefinger and thumb, pinch some material inside, close to the leg opening. The pinch should be tight. 
Fold the pinched-up jeans fabric, hold it with your thumb on the outside with your forefinger, and cuff the jeans. 
That will keep the jeans cuffed nicely and not interfere with the length of your jeans. 
One thing to note when cuffing your jeans is that oversized cuffs can make the lower half of your body appear shorter. That means if you are short, you need to make smaller cuffs. 
4. Tuck Your Jeans into the Boots
Tucking in your jeans works well if you have a long pair of skinny jeans. This method won't work for loose-fitting jeans as a bunch of fabric may come out of the boots, which is uncomfortable and untidy. 
Simply tuck your jeans inside the hiking boots for a neat look. That will make your movement more manageable, and you won't have to worry about insects and other debris slipping into your jeans. 
Avoid tucking your denim if you're wearing boots that hit the ankle — only tuck in your pants with boots that cover your ankle. 
5. Choose Earthy-Colored Jeans
When pairing your hiking boots with jeans, it's best to choose boots with earthy colors, like black, dark brown, and light brown. These colors tend to pair well with the blacks and blues of jeans.
Additionally, when choosing your jeans, go for colors like blue, beige, black, or tan. 
For example, light-wash jeans can be worn with a pair of black hiking boots, and indigo works well with tan boots. Pairing the two gives you a casual and bright appearance. 
In autumn and winter, you can pair dark-colored jeans and boots together; in spring and summer, you can pair light-colored jeans and boots. 
6. Go for Well-Fitting Boots
If your hiking boots are not the right fit, pairing them with jeans will only make your hiking experience uncomfortable. 
Get well-fitting boots with ample toe space if you plan to pair them with your favorite jeans. Moreover, you need to check the heel of your boots.
Skinny jeans work well with a short-heeled hiking boot, while loose-fitting jeans are better with boots with a high heel. 
7. Keep Things Simple
Less equals more when wearing hiking boots with jeans.
Avoid going over the top with your jeans, and take things back to the basics. Stick to plain jeans without lots of details.
You can pair the jeans with plain T-shirts and allow your hiking boots to be the main focus. 
Avoid accessories or heavy branding to ensure your overall look is uncluttered and clean. 
Final Thoughts
Although hiking in jeans may sound uncomfortable, learning how to pair them with your hiking boots can make your hiking experience better.
You can get away with wearing jeans on short hiking trails, but you'll need to get the right cut and fit. Try cuffing or tucking your jeans in if they are long, and get properly fitted boots that complement your jeans. 
Resources