*This post may have affiliate links, which means I may receive commissions if you choose to purchase through links I provide (at no extra cost to you). As an Amazon Associate I earn from qualifying purchases. Please read my disclaimer for additional details..
Are you considering exploring the next slot canyon, visiting a mountain summit, or just going out in nature? Sunny days are excellent for hiking but can also be intense if you're not appropriately dressed. 
Figuring what to wear in 100°F weather can be confusing if you're used to hiking during winter. The weather can be unpredictable, and your hiking trip can become dangerous and painful if you're overdressed. 
Our detailed guide covers everything you need to know about clothing and what to wear in 100°F weather. 
Hot Weather Hiking Clothes 
Here are tips on what to wear while hiking in hot weather.
Layering
Although you might be tempted to think that layers only work for winter, you'll be surprised to learn that you also need good layers for summer hiking. 
Bringing layers allows you to stay comfortable and relaxed as temperatures can change unexpectedly. Remember that your upper body absorbs the most heat, and you want breathable clothes. 
You need to choose your fabrics with care when shopping for your layers. Don't forget to consider the density.
Although most synthetic products won't specify the weight of the material, certain fabrics like merino wool will always state the weight class.
You need a base layer made of wicking fabric, which allows sweat to escape and dries fast.
Nylon and polyester fabrics are ideal for summer hiking. Consider packing light tank tops and t-shirts that are comfortable in the heat. 
Apart from the base layer, you also need a mid-layer. This layer should also be made from a synthetic material that remains dry when sweating.
A long-sleeved shirt is a great mid-layer to protect your arms from the heat but keep you warm in case the weather changes. You can find long-sleeved t-shirts with breathable material to keep you cool and comfortable.
Don't forget to bring an outer layer if you're planning to hike in the summer heat. You may be dealing with a drop in temperature when the sun goes down, and you need a layer to keep you warm at this time. 
Get a raincoat, windbreaker, or fleece jacket made from water-resistant fabric. That ensures that in case it rains, you won't get wet. The outer layer also helps to keep you warm. 
Pants and Shorts
Hiking bottoms for both men and women are excellent options when hiking in hot weather.
Pants not only protect you from the sun, but they also keep the foliage and bugs on the trail away.
You can find a variety of hiking pants that are breathable and lightweight for summer hiking. Some pants have pockets and zippers that allow you to bring your valuables.
Yoga leggings or yoga pants for women are lightweight, stretchy, and comfortable as they wick sweat, making them ideal for hiking.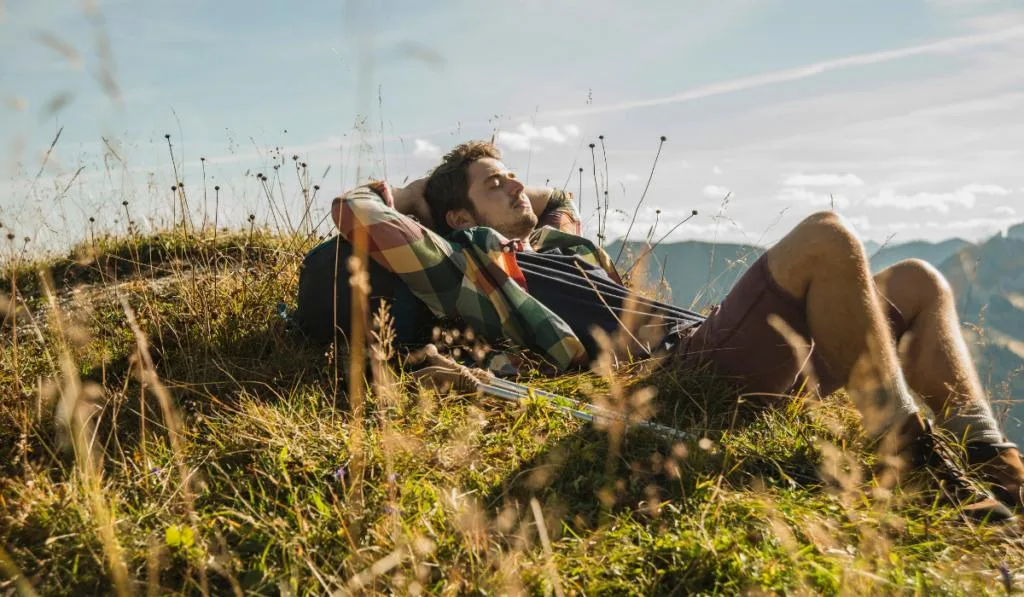 A pair of active pants made from moisture-wicking fabric is a good choice if you're susceptible to burning. Convertible pants are also great when going for a multiday backpacking trip. 
You can check out the available hiking shorts if you're looking for a more comfortable and breathable option. Shorts, unlike pants, allow airflow on your legs and make it easier to move around quickly.
Avoid extra baggy or uncomfortable shorts as they can cause chafing when worn during a long hike. 
Women's shorts with UPF protection help protect your skin from the sun's direct rays. 
You can opt for cargo shorts with pockets and an adjustable fit like a drawstring closure if you're a man That makes them comfortable to wear without the added weight of a belt.
Hiking manufacturers are now producing water-resistant shorts that are also made of UPF fabric.
Shoes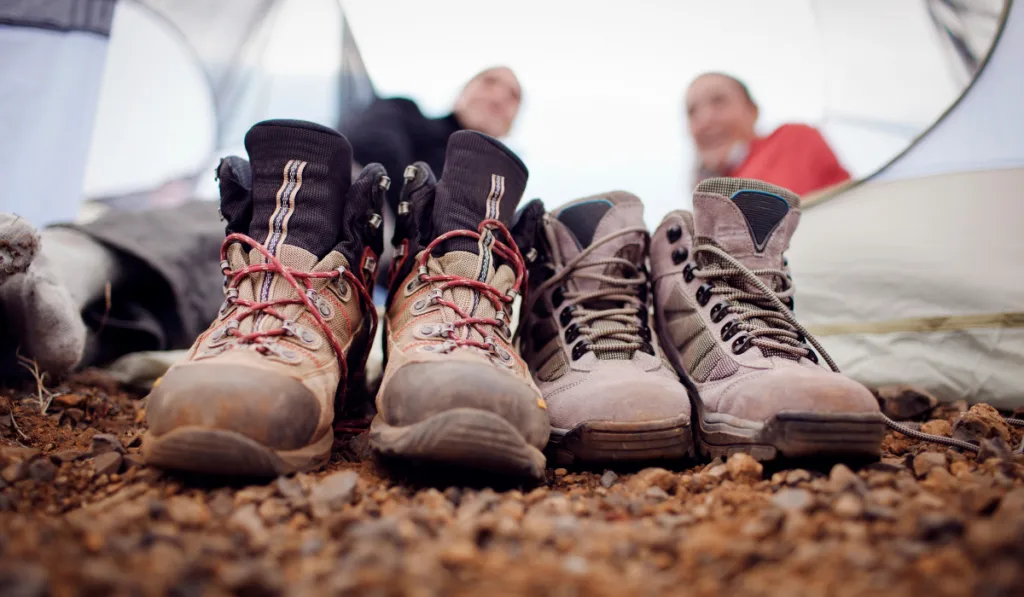 You still need sturdy hiking shoes or boots when hitting the trail.
Most hiking shoes and boots have a thick layer that's meant to provide some level of comfort and safety. However, these boots can be uncomfortable and lead to more sweating in warm weather.
A low-top pair of hiking shoes that is comfortable and lightweight will help you traverse the trails in the summer.
Look for shoes with breathable strips of thin fabric to ensure your feet don't trap sweat or feel enclosed. 
The right pair should have excellent ankle support and cushioned soles. Furthermore, your hiking boots need a gripping outsole to ensure that you don't slip on rocks or gravel. 
Hiking sandals are a perfect choice when hiking in warm weather. Brands like Chaco, Merrell, and Bedrock have some quality sandals. 
Socks
Don't forget to include a quality pair of hiking socks to keep your feet cool as you hike.
Wool or synthetic socks are better than cotton ones. Ensure that they fit right to avoid any slipping as you walk.
The right hiking socks should also cushion your feet. Ensure that the seams are flat and don't rub against your feet. 
Underwear
Choose hiking underwear made from natural fiber or synthetic material. That prevents chafing and ensures you're cool throughout due to the moisture-wicking properties. 
Women need quality sports bras with breathable fabric to ensure they are cool and comfortable as they hike. 
Hiking Accessories
Apart from your tops, bottoms, undergarments, and shoes, you also need to bring hot weather hiking accessories. 
A pair of well-fitting sunglasses with UV protection can help you hike in hot weather. Find sunglasses with a comfortable and lightweight frame, as they won't put a strain on your ears and nose. 
What Clothes Should You Avoid for Summer Hiking?
When shopping for summer hiking clothes, you should avoid the following:
Anything Made from Denim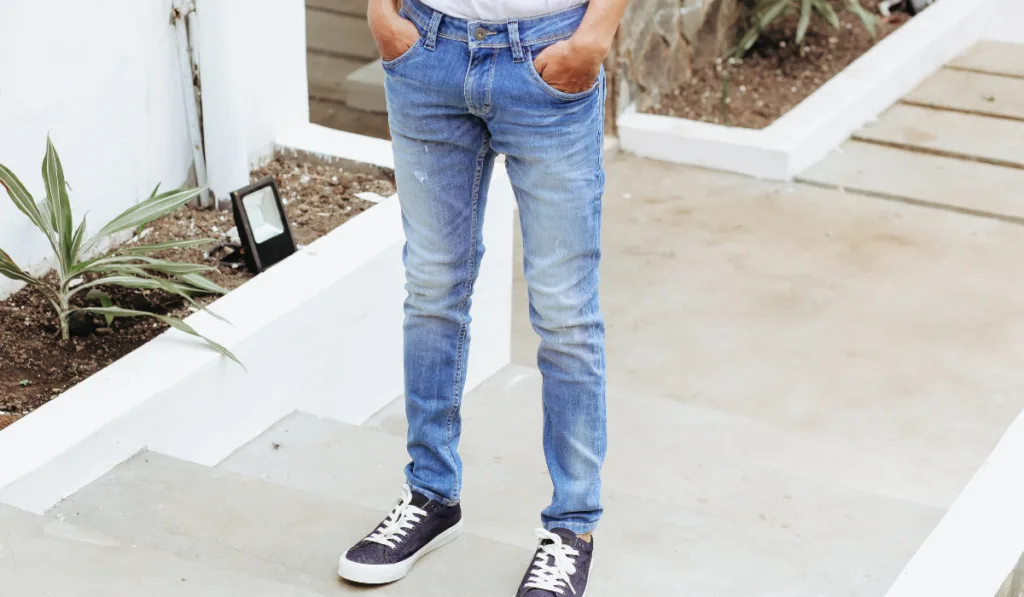 Avoid denim pants and anything denim-related when hiking during summer.
Although hiking jeans are available, you might find them uncomfortable as they can get heavy when you sweat and soak up water. 
So it's best to opt for breathable and comfortable fabrics with a stretch. 
Cotton Fabrics
Although cotton is an excellent and durable material, it's not the best option for a hot weather hike. 
Cotton soaks up water and sweat, making it uncomfortable to wear over an extended period. Cotton is also warm and heavy, which you want to avoid.
Apart from cotton tops and bottoms, you should also avoid cotton socks, bras, and underwear. Choose clothes made from polyester or nylon, as it's lightweight and breathable. 
Ankle Socks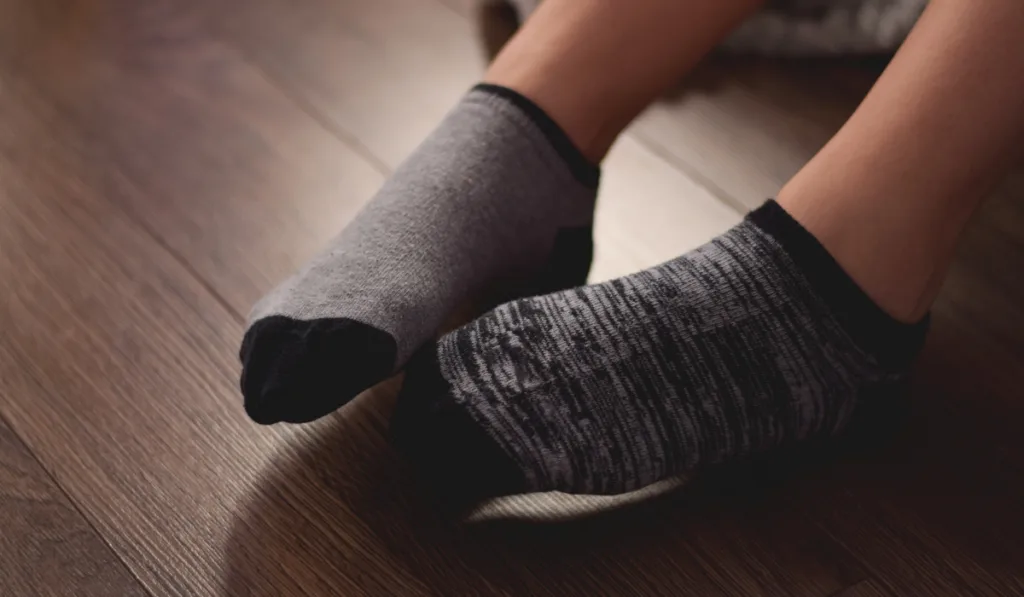 Although hiking socks may not seem like a big deal, the type of socks you wear can impact your hike. 
Avoid ankle or socks that go down and bunch up in the boots. That's because they'll rub against the inside of your shoe and leave the back of your foot exposed. 
You'll be forced to keep correcting this as you hike, which can be uncomfortable.  
Clothes With Stiff Fabric
Comfort and functionality should be the top priorities when looking for hiking clothes. 
Stay away from clothes that have stiff fabric, as they'll limit your movement, especially when maneuvering through tight canyons or scrambling over rocks. 
Find flexible and sturdy hiking pants that won't impede your movement or easily rip off. 
Other Tips When Choosing Clothes to Hike
Apart from knowing what clothes to wear when hiking in summer, you also need to know what colors and other features to look out for when shopping for hiking clothing.
Find out more in the tips listed below.
Opt for Lighter Colors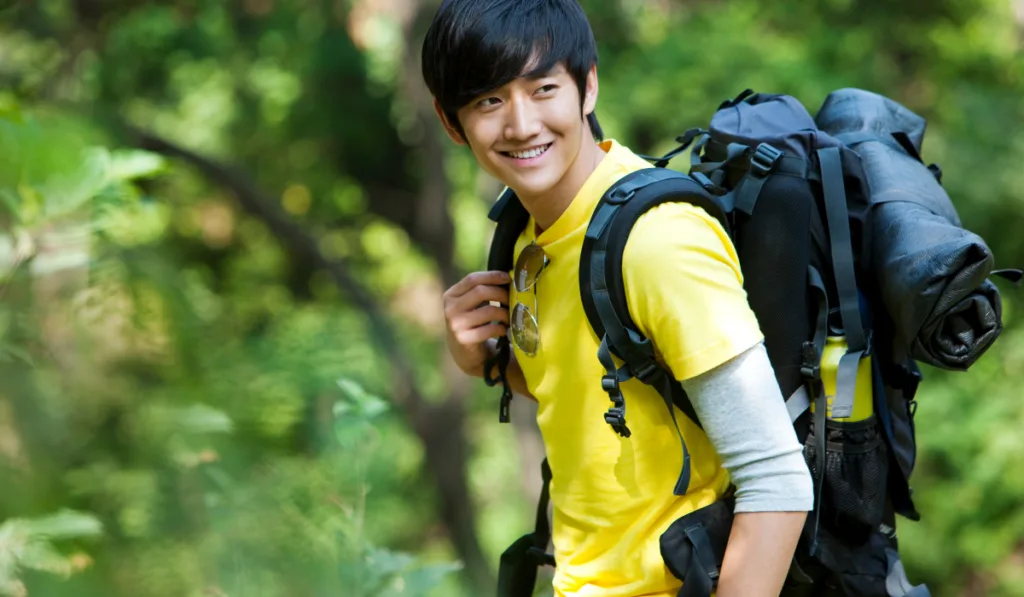 Dark colors trap heat and can get uncomfortable, especially with increased temperatures. 
Instead of shopping for black or dark brown t-shirts, shorts, and pants, choose lighter colors like beige, tan, or white. These colors reflect the sunlight and are comfortable to wear for an extended period. 
Find Clothes Infused With UPF Protection
Fabrics infused with ultraviolet protection act as wearable sunscreen and prevent damage from the sun.
Nonetheless, you should still wear sunscreen even with garments with a UPF rating. 
Don't Forget Your Neck
It's easy to think about your t-shirts and shorts and forget that your neck is also exposed to the sun while hiking. 
You can get a neck gaiter or a bandana to protect your neck. Alternatively, you can bring a lightweight cloth and dip it in water to keep your neck cool. 
Bring a Hat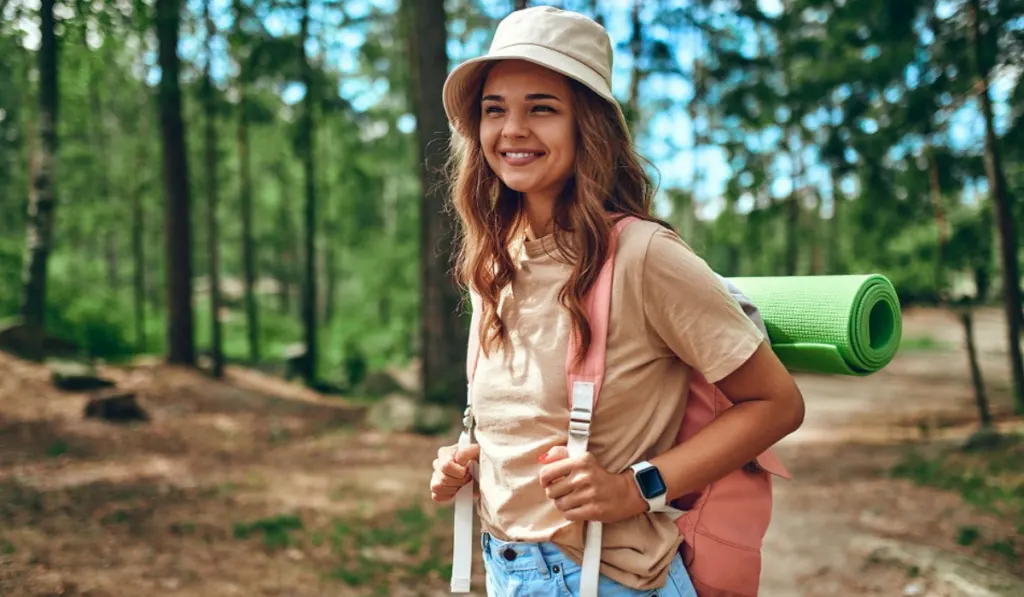 A hat comes in handy on a hot day. It will protect your face and neck from heatstroke and sunburn.
Find a sun hat with a wide brim that goes all around for extra protection. 
Final Thoughts
Stocking up on the right summer hiking clothes can make your experience more enjoyable and comfortable.
Your adventure out on the trails will be a success with the extra layers, loose tops, hiking pants or shorts, and boots. You can enjoy the trails and views when your clothes are dry and breathable.
Resources