*This post may have affiliate links, which means I may receive commissions if you choose to purchase through links I provide (at no extra cost to you). As an Amazon Associate I earn from qualifying purchases. Please read my disclaimer for additional details..
Hiking is not just fun, it's relaxing and can help you discover more about nature. So long as you prepare well for your hiking trip, you'll enjoy the physical exertion and time in the great outdoors.
One significant way to prepare for your hiking trip, especially if you plan to take long hikes, is to decide what you'll eat.
What are your lunch ideas? The best thing about the following list is that you can mix two or more items and come up with brilliantly planned meals.
Read this article to see nine excellent hiking lunch options.
1. Fried Meat and Fish
You can't hike with raw meat and fish because they will spoil quickly, and you won't likely cook on your hike (except if you are camping). Also, boiled meat and fish spoil quickly.
If you want meat or fish, go for fried or smoked pieces. Frying or smoking your food helps dehydrate it to last longer.
You can go for fried turkey, chicken, beef, etc. You can also fry any fish of your choice.
2. Eggs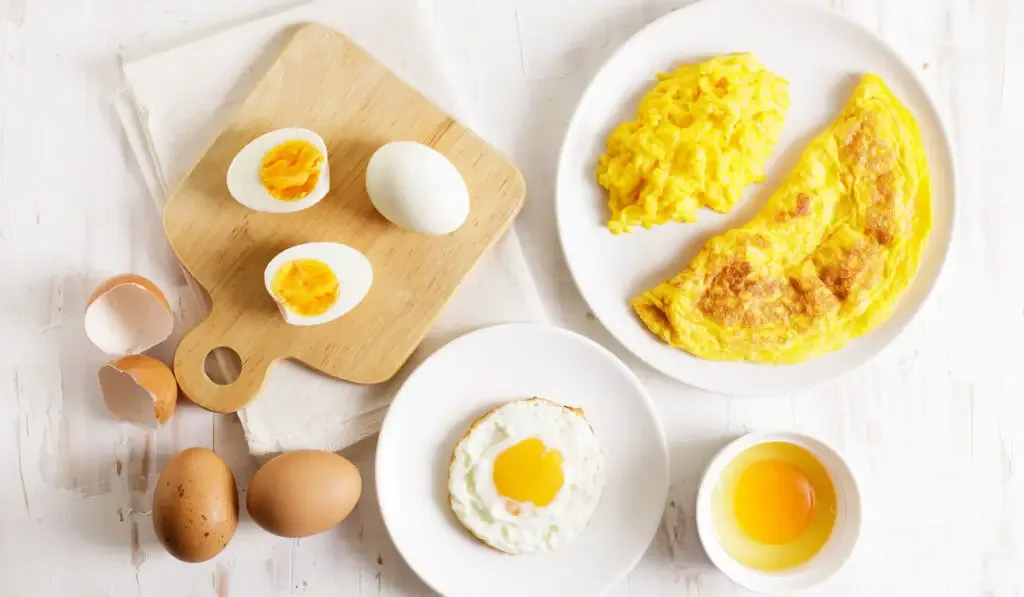 You can travel with hard-boiled or fried eggs.
However, you must eat the fried eggs first, as they spoil faster than the hard-boiled ones.
For the boiled eggs, you can keep them for two to three days so long as you keep them in airtight bags.
If you have any source of heat, water, and a vessel to cook in, you can hike with raw eggs and boil them whenever you want to eat. If you travel with uncooked eggs, remember to pack them well so they don't make a mess in your pack.
If you travel with a hard-boiled egg that's been peeled, try to eat it quickly because it will soon go bad.
3. Well-Packed Sandwich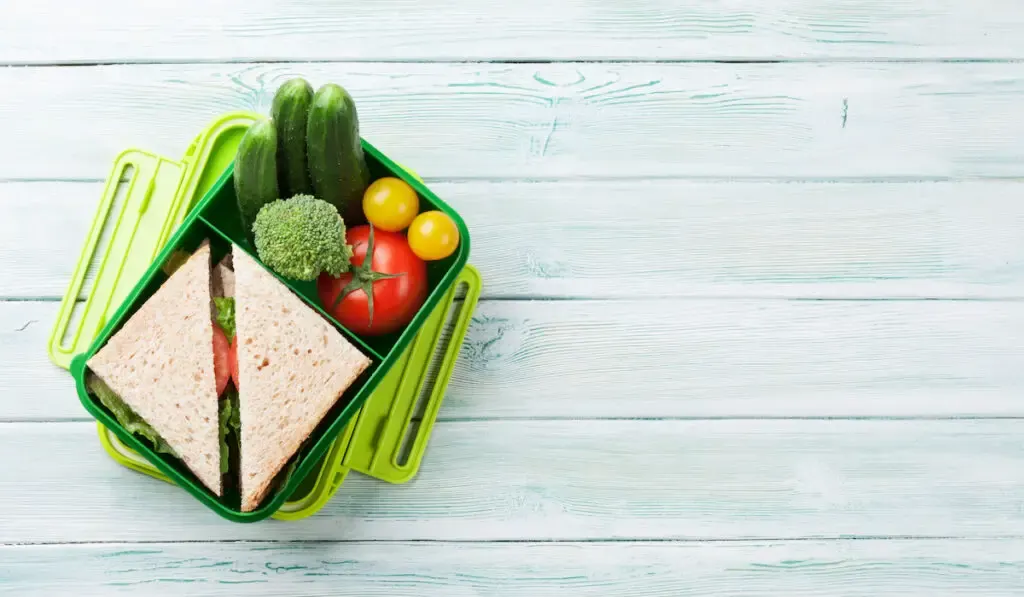 If you love sandwiches, you can take them with you while hiking. So long as you pack them in an airtight container when they're still fresh, they will last for a day or two.
Remember to eat your sandwiches and similar foods as quickly as possible.
If you like, you can pack the ingredients of your sandwiches separately and mix them when you want to eat.
With this method, each ingredient will last longer than when mixed with others.
4. Longer-Lasting Fruits and Nuts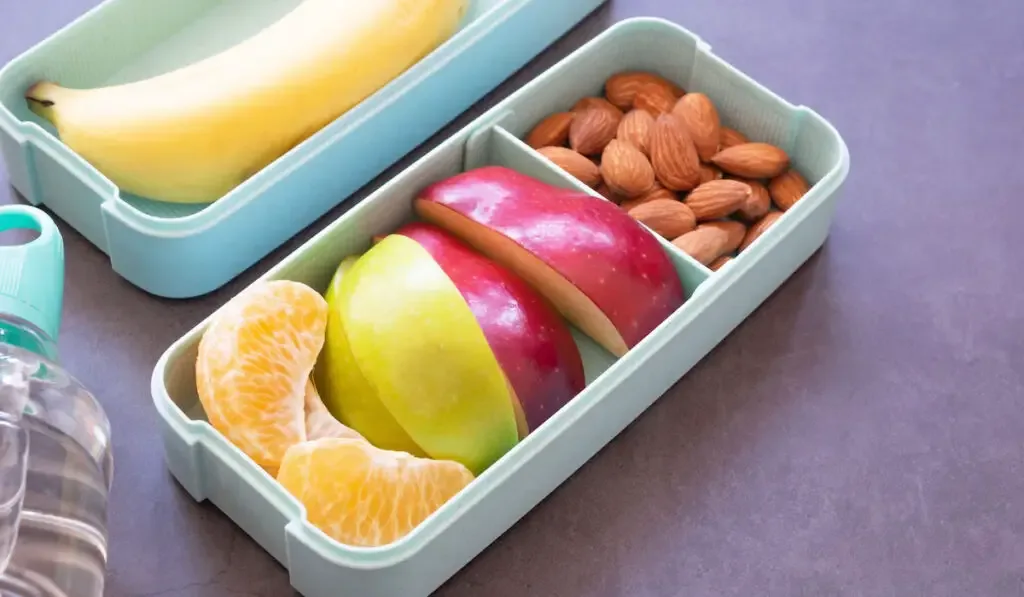 If you like, you can pack some bananas, apples, and other fruits that last longer.
If you can, pack dehydrated fruit, which is prepared to last for a very long time.
So long as you store your fruits properly, they can last two to four days. Just ensure that you keep them from getting wet on the outside.
If you dehydrate some fruits, keep them in sealed bags or containers so the humidity outside does not make them go bad.
5. Bread and Other Baked Products
Bread does not spoil as quickly, and it satisfies you when you eat it.
You can also hike with cakes, doughnuts, and other baked products. Just ensure that you keep them as dry as you can.
You can keep your bread for three days before it becomes unsuitable for eating. If you leave the bread unopened, it can last for three to five days.
6. Peanut Butter and Jelly
Of course, you need to eat your bread and other packed foods with something. Peanut butter is a sweet source of protein and carbs, so consider packing it on your hikes.
One jar of peanut butter can keep you going for four to seven days, depending on how often you eat peanut butter.
You can also pack some jelly, Nutella, and other similar products to mix with it for some variety.
7. Packed Peas and Boiled Beans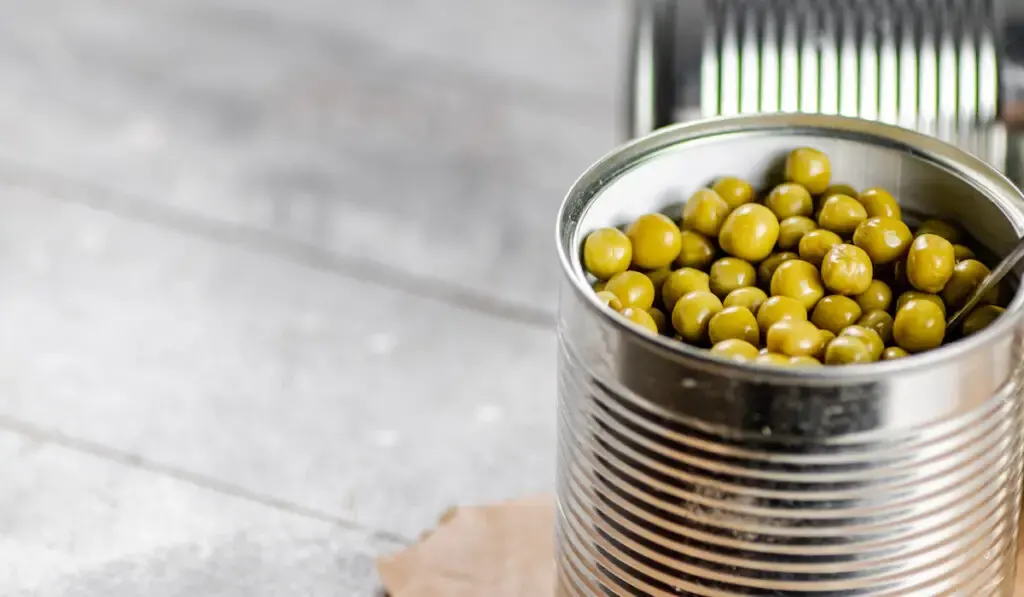 If you love peas and beans, nothing's stopping you from hiking with them. You simply have to head to a store and buy a can of peas or boiled beans.
You can buy as many cans as you want. Peas and beans also go well with bread, meat, and other foods that we have selected so far.
So long as you have yet to open your pea or bean cans, the contents inside will last for a very long time.
8. Cereals and Milk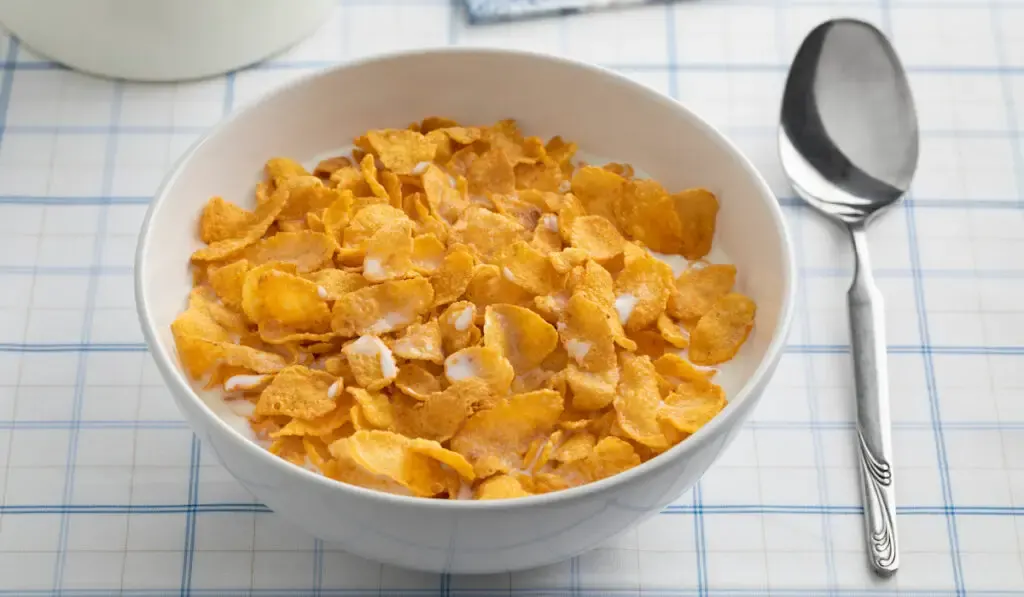 Here's something very quick and easy to make.
An idea for quick meals is cereal and milk.
One pro of this combination is that it lasts for a very long time. So long as you keep your cereal dry, it won't go bad quickly.
For the milk, if you have a cooler, you can buy multiple small packs so that you don't have to store any opened packs. Alternatively, you can use some of the plant-based milks that don't require being chilled until they are open.
9. Granola Bars
A lot of hikers travel with granola bars, as these bars contain a lot of nutrients and don't need any special preparations before you eat them.
You just have to buy a lot of them and open them when you are ready to eat.
Which selected foods will you pack on your next hike?
Some Things to Consider While Packing Your Hiking Lunch
You can go hiking with the foods listed above or you can get more creative and add more options. However, before you pack just anything, consider the following:
1. Your Hiking Duration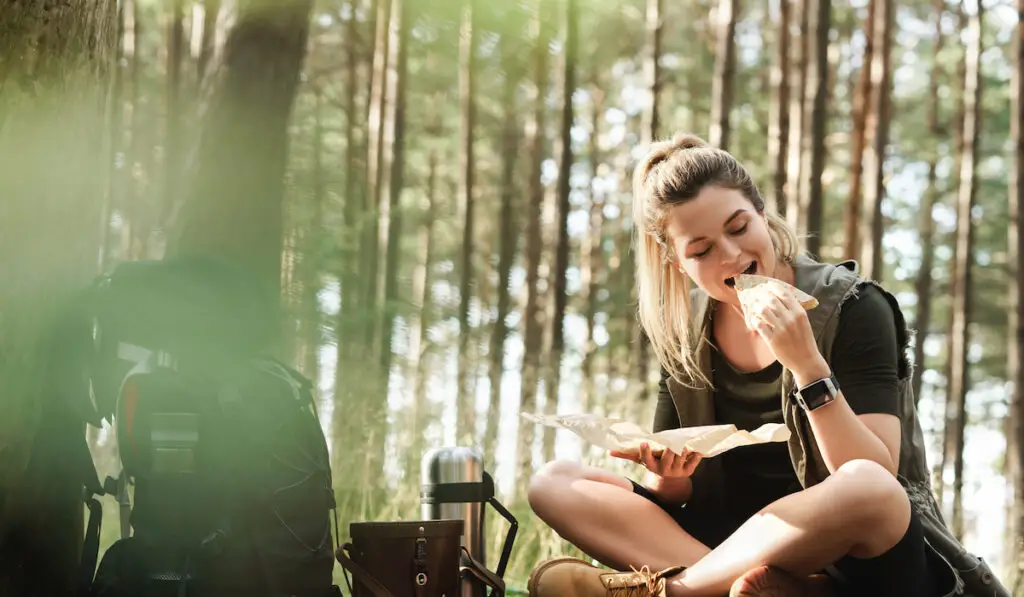 Your hiking duration affects what you should pick in the following ways:
The shelf life of the food: If you pack foods that will go bad after three days but your trip will last for four days, you may have nothing to eat on the fourth day.
How much food to bring along: If you plan to hike for four days, you need enough food to last that amount of time.
You have to plan everything, so always consider the duration of your hiking trip.
Also, consider how often you'll be eating while hiking. Would you like to eat three times daily?
If, for example, you want to eat two times daily on your trip that would last for four days, you need to prepare for eight meals.
2. The Weight of the Food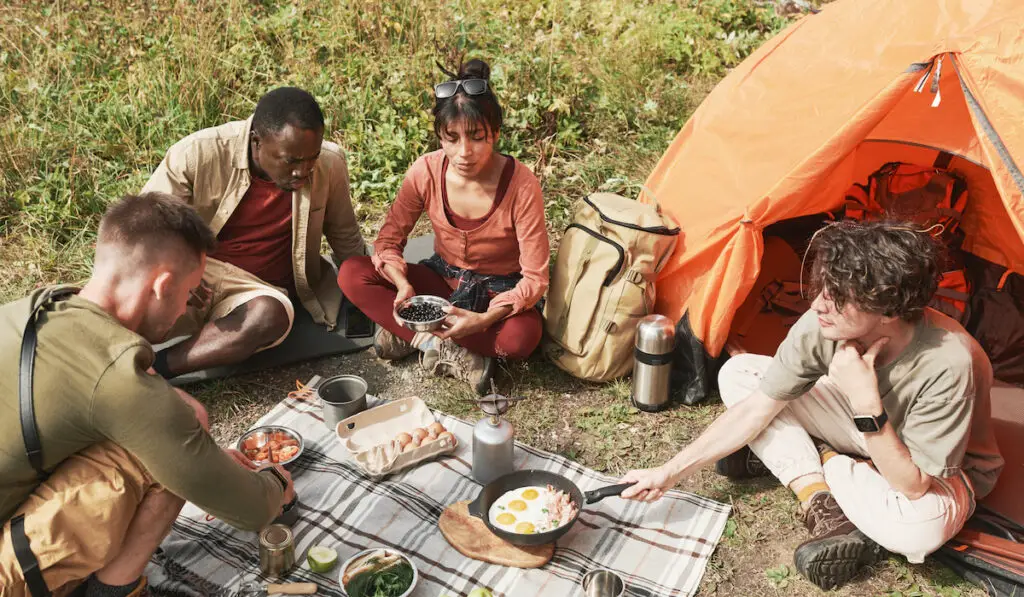 Imagine fetching water from the stream and you have to carry the container from the stream back to your home.
At first, the container will be easy to carry. However, the more tired you get, the heavier the container will feel.
Just like the container, heavy foods will be easy to carry for the first few hours of hiking. However, you will get tired quickly and thus the food becomes a burden to you as time progresses.
You'll have a more enjoyable hike if you pack as lightly as possible.
Hiking with chips is more manageable than hiking with nuts, as dehydrated foods weigh less than foods with moisture.
So long as you have a steady and clean source of water, consider hiking with dehydrated foods.
If you must travel with a heavy load, you will need to stop and rest regularly to have enough strength to go on.
3. The Nutrient Composition of Your Selected Foods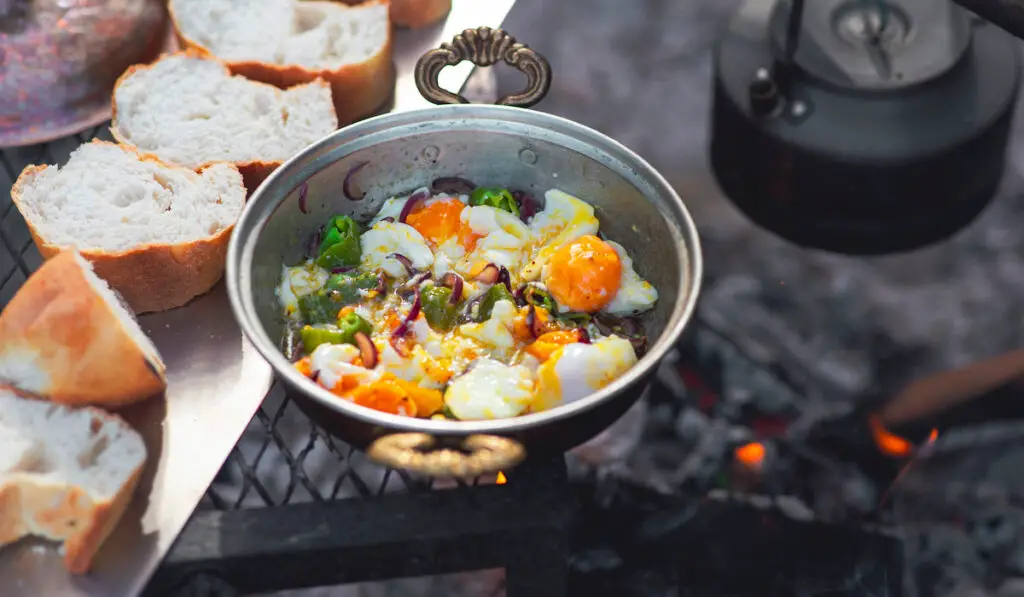 If you use hiking as a form of exercise, you must travel with more protein-rich foods than those rich in carbohydrates. Also, consider your vitamins and minerals.
Don't travel with only one type of food, as it may not contain all the necessary nutrients. Ensure that there's diversity in your selected foods.
If you have limited space and cannot travel with various foods, consider packing some potato chips, eggs, or meat.
The potatoes will give you enough carbs while the egg or meat will supply you with proteins. You can also get enough vitamins and minerals from potatoes and eggs.
4. How Will You Preserve the Selected Foods
Hiking with ice is not very effective, as the ice will melt and go warm in a few hours. Also, you cannot hike with a freezer or refrigerator, so you have to think of ways to preserve your food.
Packaging in an airtight bag is one common way to preserve your food.
If you need eight meals for your four-day trip, keep your selected foods in eight airtight bags. Only open a bag when you want to collect from it to eat.
Another way to preserve your meals is to hike with dehydrated foods.
For example, go for potato chips instead of boiled potatoes. Go for dehydrated fruits instead of fresh ones. Go for cereals or dried nuts instead of water-filled seeds.
Also, keep your dried fruits in airtight bags to prevent external moisture from spoiling them.
5. How Will You Dispose of Your Waste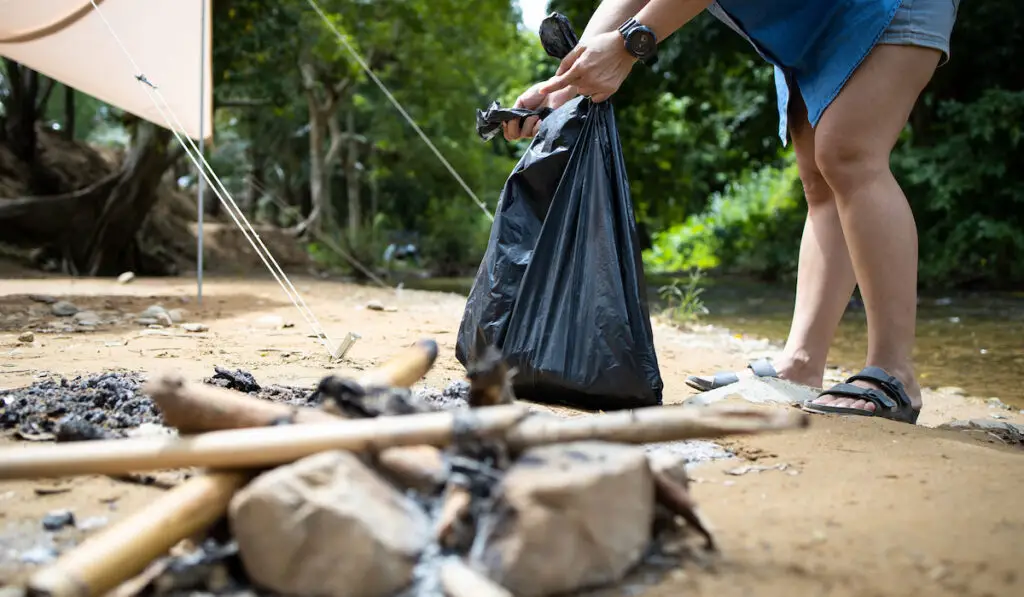 You will most likely be traveling with bags, fruit peels, etc. Also, you may have to dispose of your leftovers. Have you considered how you'll dispose of your waste?
If you have plastic or paper waste, you can keep them and dispose of them as soon as you get to a place with a waste bin.
Keep food waste in an airtight container and dispose of it as soon as possible.
Please don't throw them on the ground. You do not want to attract pests. Always remember to keep nature clean.
Final Thoughts
Now, you know what and how to pack for hiking, right?
Always keep in mind the nutrition and shelf life of what you're bringing along so that you can enjoy your hiking trip.
It's time to collect all the foods, fruits, and ingredients you need. Enjoy your trip!
Resources