*This post may have affiliate links, which means I may receive commissions if you choose to purchase through links I provide (at no extra cost to you). As an Amazon Associate I earn from qualifying purchases. Please read my disclaimer for additional details..
Outdoor athletes and nature lovers obsess over gear. When you're hiking, every pound matters.
You never want to carry anything you won't use, and you need to dress for the weather to protect yourself from the elements.
Balance is the name of the game when it's 60°F outside. It's neither too hot nor too cold, so you need something that's lightweight and can perform in different conditions.
In many ways, preparing for hikes in the cold or when it's scorching outside can be easier than prepping for a hike in 60-degree weather.
When it's nice outside, things tend to change on a dime. You can feel cold in the shade, but things heat up quickly once you're hiking in the sun.
Finding something that can keep you dry in the rain without weighing you down when you don't need it can be quite a challenge.
Thankfully, there is more apparel and equipment to choose from than ever. Knowing what to buy and take on your hikes is the issue.
Here, we break down some of the best pieces of clothing you should take with you while hiking in slightly cooler weather.
If you're going on a hike in 60-degree temperatures, here are some things you should take with you.
Set Yourself Up with Quality Layers
Hiking at 60°F can feel like a dream, especially if you're in direct sunlight most of the time.
The sun's warmth will hit your body to keep it warm while the cool breeze wicks away your sweat from a challenging hike.
The main concern with hiking in cooler weather is that you'll feel cold whenever the sun's not hitting you, or you are not moving.
You don't want to be too cold during shaded or slower parts of your hike, but you also don't want to weigh yourself down wearing or packing too much in a bag.
Here are the basics you want to include for a day hike:
Shirt
In these types of hikes, you can really get away with wearing either a short-sleeved shirt or long sleeves.
We recommend a dry-fit long sleeve shirt to protect you from the sun if you're hiking at a higher elevation or have fair skin.
Long sleeves also come in handy if you have to move through the thick brush or there are bugs outside that want to get a taste of you.
You'll be glad you wore the long sleeves if it gets too hot and you need to take other layers off. You can always push the sleeves up to give your arms some sun as well.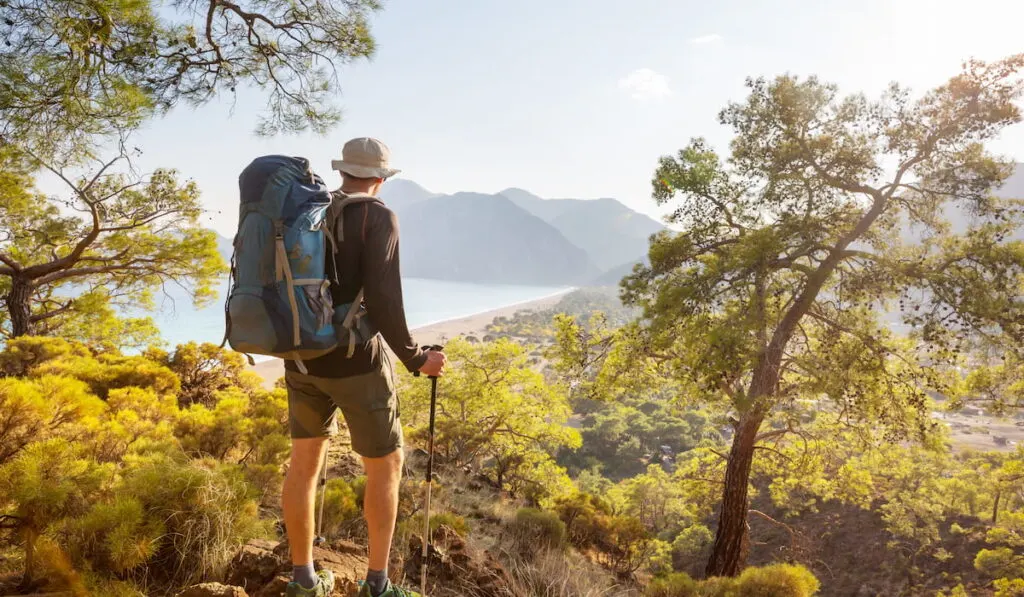 Fleece Pullover/Hoodie
In 60-degree weather, you can skip the parka or the heavy raincoat. Instead, you'll need something lightweight with good insulation.
Something like a zip-up fleece jacket is perfect.
Patagonia, Columbia, North Face, and a ton of other outdoor apparel companies make these. They're one of their bread-and-butter products because people love wearing them to work or out on the trail.
We prefer zippers because a pullover hoodie or sweater will work, but it doesn't give you as much flexibility. With a zipper, you can adjust your jacket open and closed as much as you like.
You can zip down when it's hot and up when things get chilly or windy.
Pants
At 60 degrees, you can get by wearing pants or shorts. Just make sure that, if you do wear pants, you go with something that's not too thick or heavy.
Of course, you could always opt for the ever-versatile zipper pants that can transform from pants into shorts or back in just a few seconds.
That way, you can keep your legs covered when it's cold, rainy, or walking through tall grass. If it gets too hot, you can be in shorts instantly.
Again, hiking shorts or pants explicitly designed for hiking are the best choices here.
They're typically made of lightweight material that's also very durable. You can feel confident jumping in a river in them or climbing up steep hills.
Leggings also work on cool-weather hikes.
Plenty of hikers prefer leggings because they're not too hot and fit closely to the legs, so there's less chance of your pants snagging on any limbs or rocks.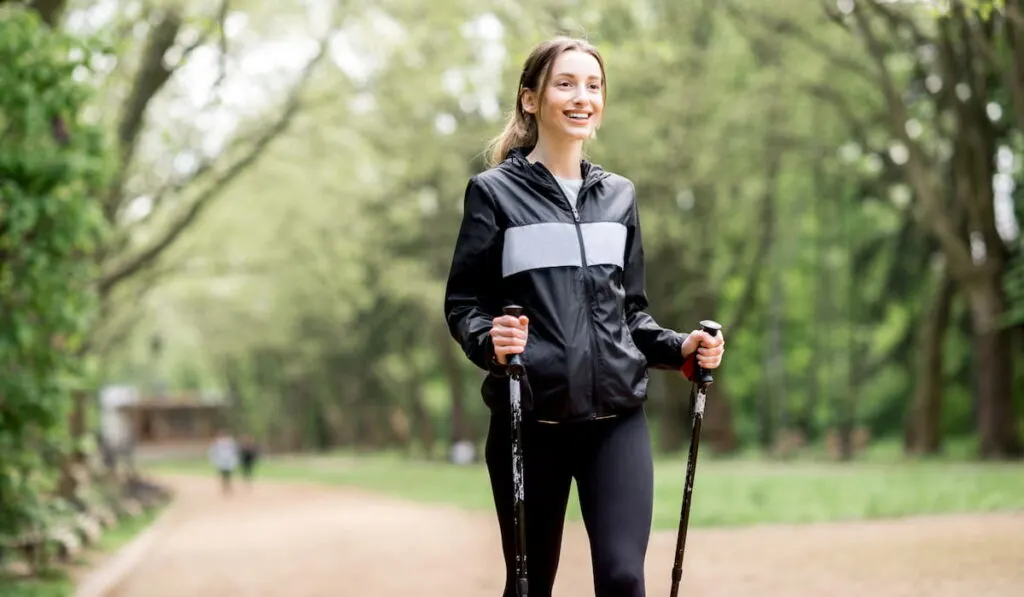 Hat
A beanie is almost the perfect hat for hiking in 60-degree weather. They provide the coverage you need with added warmth for when things start to feel on the cold side.
If you wear just a normal hat, you could end up losing a lot of your body heat when the sun is hiding behind clouds, or you're higher up.
Depending on how you feel, you can adjust a beanie up or down on your ears. And, if it starts to get too hot, a beanie doesn't take up too much room in a pocket or backpack.
If you're not too worried about warmth, wearing a brimmed hat to keep the sun off your face is also a fantastic option.
Should You Bring a Jacket on Your Hike?
Whether you bring a jacket in addition to your zip-up fleece or hoodie depends on where you're going and how long you'll be out hiking.
For longer hikes, it's usually a good idea to bring a jacket just in case.
Just in case of what? Well, in places where it rains a lot, or you're hiking with children, for example, your jacket may come in handy.
If you don't have a rain jacket in your bag, you'll get wet if it rains, and it could spoil the rest of your hike.
Choose something that's very light and can roll up into a small ball that you can stow in your backpack.
You can find a good selection of light hiking jackets online in a variety of sizes and colors.
Choosing the Right Materials for Hiking in 60 Degrees
Material may not be a huge deal for the casual hobbyist hiker or someone who is going on their first hike.
But this is the specialist guide, and we're generally talking to people who want to be out hiking in nature regularly and who want to avoid anything that could cut their hikes short.
In these cases, your clothing material is essential. We recommend lightweight fabrics like cotton and wool. For hiking shorts, pants, and jackets, take a look at some nylon and polyester choices.
Choose items with decent stretch in them to increase your mobility when you're out hiking.
Make the Most of Your Pockets
If you're an experienced hiker or going on a shorter hike, you may want to leave the backpack behind to shed weight.
When that happens, you should wear clothing with more pockets, making getting to your gear easier.
Luckily, companies that make apparel just for hikers know how valuable pockets are when you're carrying snacks, a knife, water bottles, sunglasses, and other gear.
So instead of fishing your hands through two large pockets, you can put your things in thigh and hip pockets, making grabbing what you need much faster.
Choosing the Right Footwear
Your shoes make a big difference on a hike. No matter what the weather is outside, good footwear with an appropriate grip is your friend.
Now, we know that opinions on the best hiking boots or shoes vary.
Your preference will likely hinge on how athletic you are, how much experience you have hiking, and where you're going.
Here's what we suggest:
Hiking Boots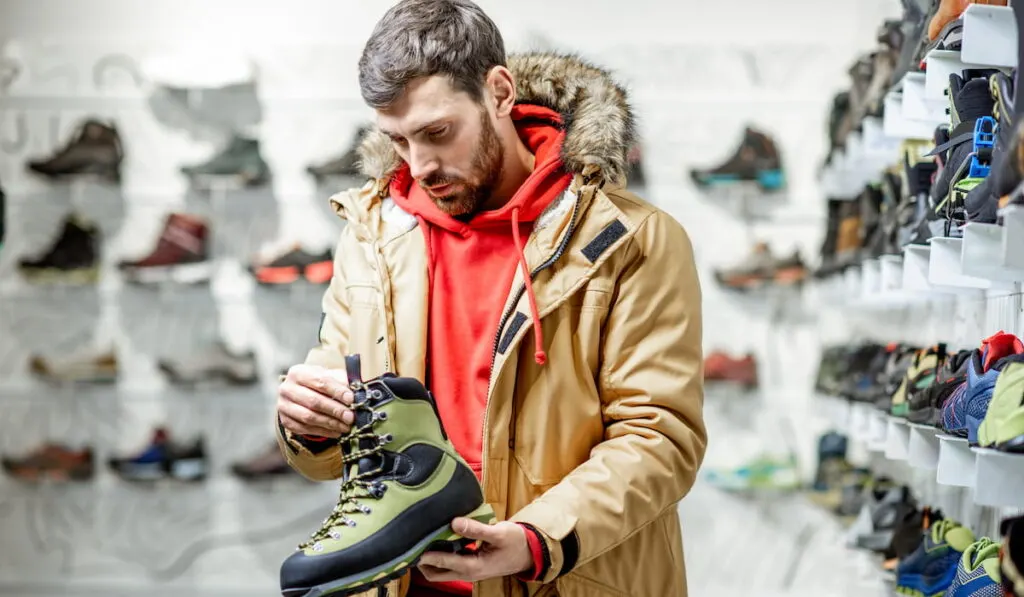 High hiking boots are good for challenging, wet terrain, and hiking when wearing shorts.
They keep your feet and calves warm and will help you avoid ankle sprains and other injuries.
They're also usually waterproof and will keep your toes nice and dry.
Mid Boots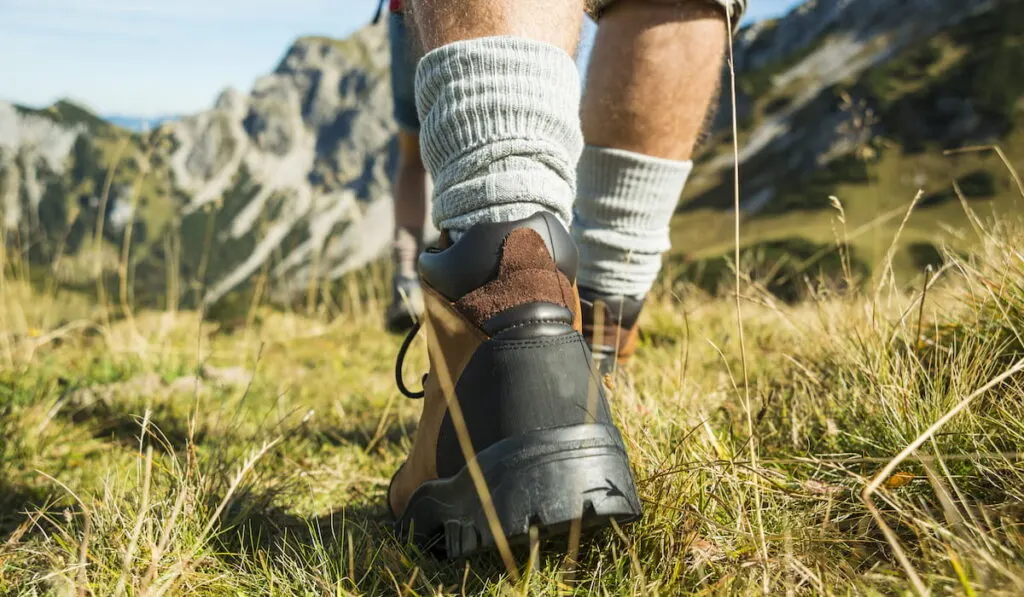 Some people don't love the way high-top hiking boots feel on their feet. The stability they offer certainly comes with some drawbacks in the way of limited mobility.
For those folks, mid-hiking boots are a terrific option. They don't come up high or give the same ankle support, but they do both well enough.
If you're looking for something comfortable that works more like a running shoe, then mid-boots are probably for you.
Trail Shoes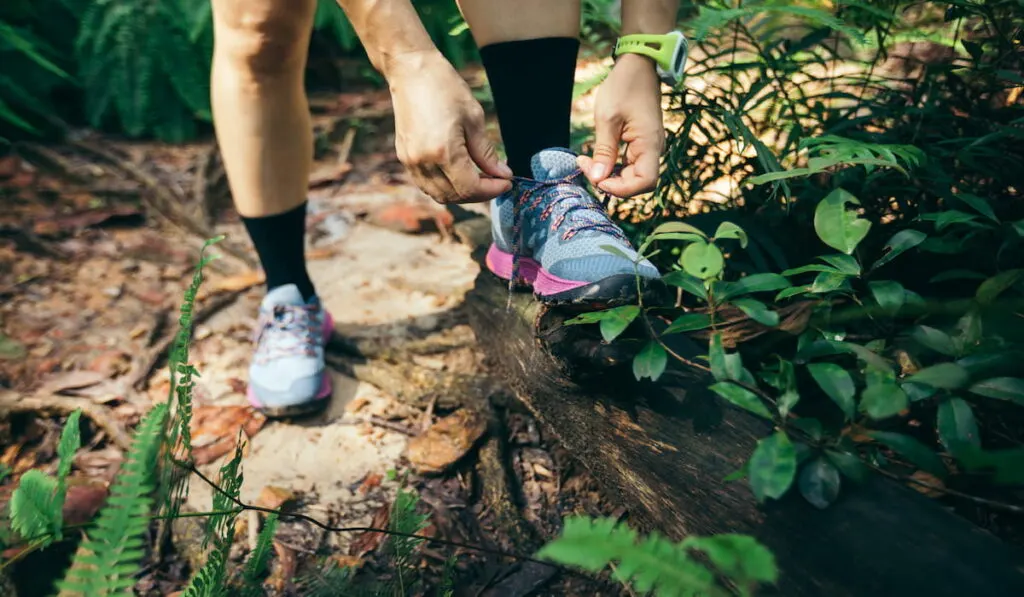 Trail shoes are a great choice for people who are confident in their ability to handle trails. They're also ideal for less-challenging hikes that have flatter terrain and fewer obstacles.
Trail shoes are a lot like running shoes; only they're built for the trail with better grip and tougher materials.
Many people run trails in trail shoes rather than running shoes because they deliver reliable performance and stability simultaneously.
Sandals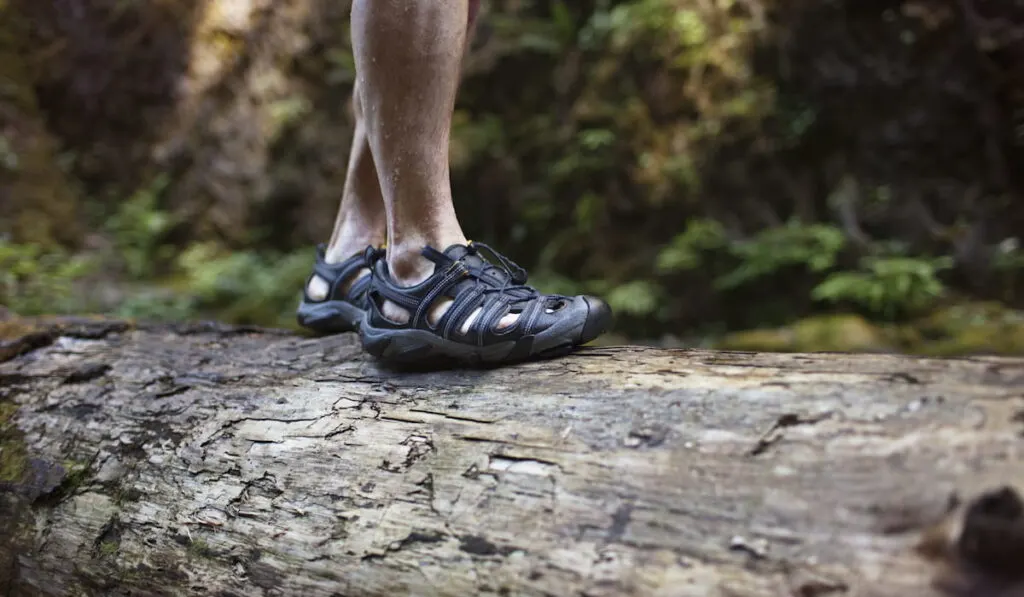 Whether 60-degree weather is too cold for hiking sandals is a question that we get a lot.
Sandals like Chacos, Tevas, and other popular brands do surprisingly well on hikes but are generally something more experienced hikers wear. When it comes to the weather, it's really your call.
At 60 degrees, you're right on the edge of when things get cold.
Sandals will feel amazing on a beautiful hike if you're out in the sun. Of course, you can always pack a pair of wool socks in your bag if you're worried about getting too cold.
Think About Wind Before You Go
The wind has a way of making it feel much colder than it really is. A nice strong breeze is welcome when it's 80 degrees outside.
When things are on the colder side, however, the wind can make you feel like it's the middle of winter.
If you get the nasty combination of strong winds in the shade at a higher altitude, things can turn miserable quickly.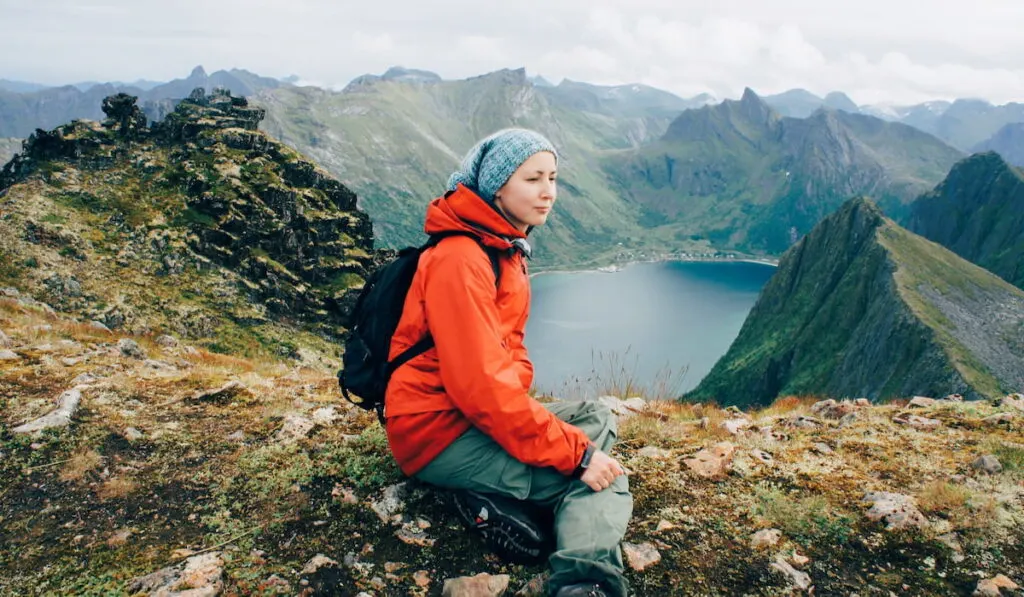 If you're going to be hiking on trails without tree cover or on mountains where there isn't a lot of wind protection, then you will need to prep for a windy hike!
Hiking in the wind typically means more layers. Ideally, you'll have a thicker nylon outer layer that can stop the wind from penetrating your layers.
You may also want to bring things like:
Gloves
Sunglasses
Hat with a drawstring
Tall socks
Buff as a hat or to cover your face
Whatever you can do to stop the wind from making you too cold is a wonderful idea.
Expect the Unexpected
One moment, you're on the edge of the trail in the sun, feeling amazing, and the next, you're looking for the sun wishing you'd brought your winter coat along.
The weather can change quickly, especially at higher elevations. Packing layers and buying high-quality apparel are both fantastic ways to protect yourself from getting too cold.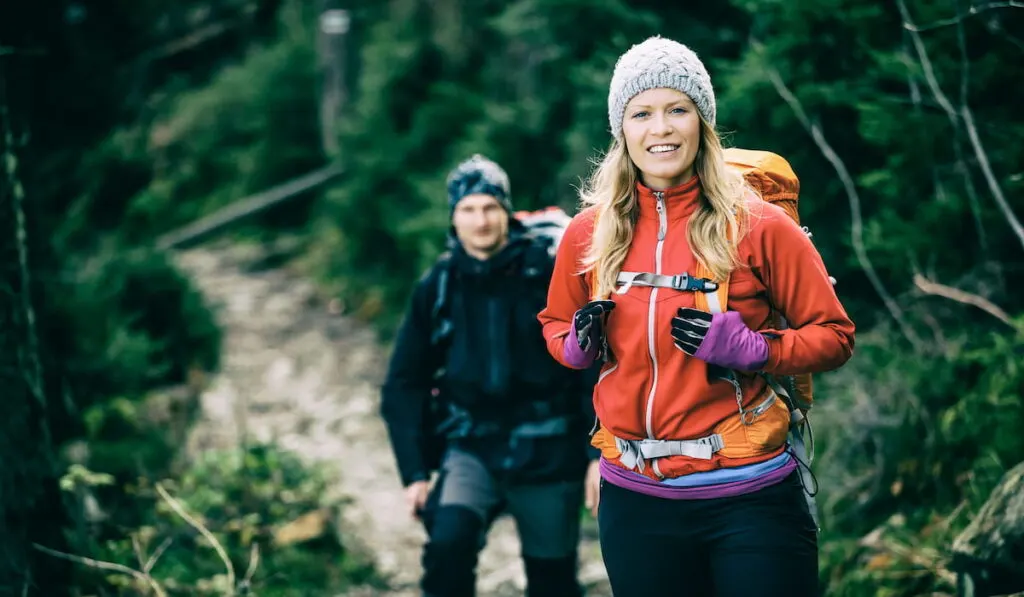 One thing to remember is that getting wet in 60-degree weather is much more of a concern than when it's very hot outside.
In the spring or the fall, when it's chilly, the water will take way longer to dry and will amplify how chilled you feel.
While it may seem easy to hike in 60 degrees, you're going to waver between putting on sunscreen and pulling up your socks to stay warm!
Expect the unexpected and appreciate those moments when it feels absolutely perfect on your hike.
Brands and Reviews
Brands certainly matter. The most popular outdoor apparel companies make great gear but also capitalize on their popularity by charging a premium.
Do your best to find deals and read product reviews before you buy anything.
While it's impossible to try things on before you buy them online, you can buy multiple brands and sizes and then send back everything but what you want to keep. Or you can go to a store and try some items on.
When it comes to hiking clothing, don't settle for less. Instead, buy gear that fits well, and that you enjoy wearing, so you use it again and again.
One Final Thought
When it comes to hiking in 60-degree weather, it's important to take into consideration every article of clothing and footwear you'll need. And what the conditions will be like for your hike.
Good outdoor clothing can last for decades, and it's always a huge joy when you find something you love wearing while on a hike.
Resources