*This post may have affiliate links, which means I may receive commissions if you choose to purchase through links I provide (at no extra cost to you). As an Amazon Associate I earn from qualifying purchases. Please read my disclaimer for additional details..
Herons are gorgeous, coastal birds, preferring marshy wetlands, rivers or any area with low, accessible water. They conjure up ideas of elegance, with long limbs, impressive wingspans, and arching, lengthy necks that taper out to equally lengthy, pointed bills. With such a distinctive beak and throat, one may wonder: what do herons eat?
Herons, being wetlands dwellers, eat mostly on animals and insects that thrive around and in water. With a diet comprised of mostly fish, they also eat other crustaceans, bugs, amphibians, and even other small mammals.
Herons are decidedly not vegetarian! With these birds, skip the seeds and the vegetation. But their eating habits are also pretty interesting.
A Heron's Diet
While small fish are the preferred meal of a heron, they are decidedly opportunistic and will eat a wide away of small prey. (source)
Most commonly mixed in with their mostly fishy diet, they also chow down on small crabs, shrimp, other small birds, small rodents (such as field mice or baby chipmunks) and even bugs and worms.
A heron's diet may switch to include more small mammals, rodents and birds in winter months when fish are hibernating and scarce. It is easier to find terrestrial prey then. (source)
Though herons typically prefer to live and feed around freshwater, they can adapt both their living preferences and their diets. (source) They have been spotted along ocean and bay coasts, beaches, mangroves, and even tidal mudflats.
As long as there is some form of aquatic life available to feed on, herons will most likely eat it.
Herons have even adapted themselves to human-populated areas. Especially in the Florida Keys or even the Galapagos islands, herons can be seen foraging coastal cities and settlements for scraps of food.
Heron Feeding Facts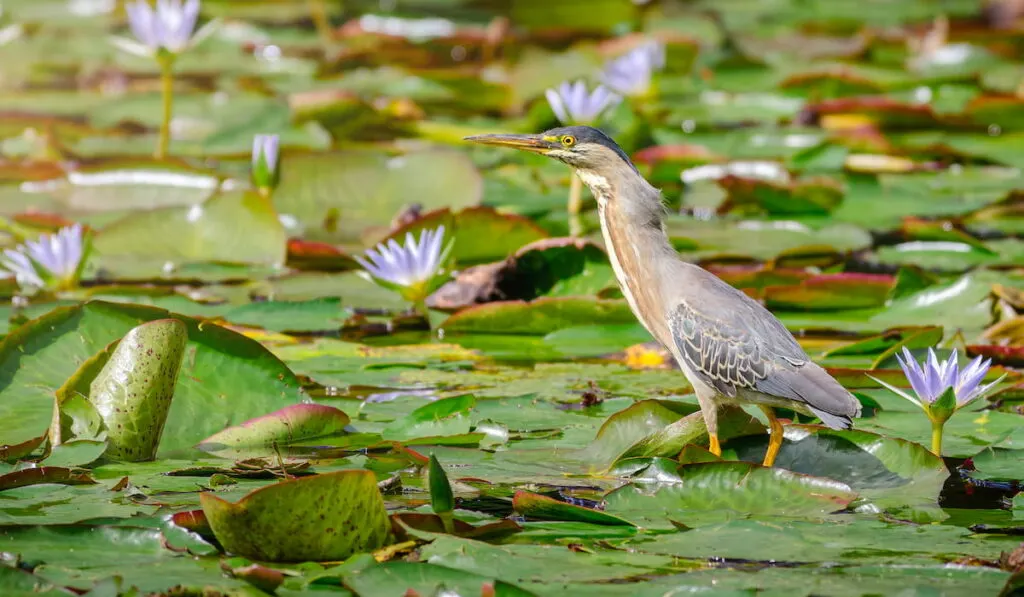 Herons are stealthy and determined. They post up in shallow waters and stalk their prey, standing still so as not to alarm prey and then waiting for a hint of movement.
Patience is one of the heron's main qualities. When the time is right, they plunge their beaks into the water and grab the unlucky prey, striking quickly and using their neck as a javelin to stab at and spear their prey with their dagger-like beak.
If they are not stabbing, herons are also often snatching, using their surprisingly strong jaw muscles to grab up prey.
Once they have a fish (or sometimes an animal) caught, herons will often shake them in order to break their potentially dangerous spines so that they can safely swallow them. (source)
Since herons mostly swallow their prey whole, manageable sizes and safety are key. If a heron tries to swallow a meal that is a bit too large, they have been known to choke.
A heron's swiftness, patience and a high degree of stealth aren't just confined to water, either. When they hunt on land, they are just as efficient. (source)
While they may not be standing still and waiting for food to unsuspectingly pass by them, they instead take to quiet steps and careful stalking of mammals.
Hunting Preferences of the Great Blue Heron
While all kinds of herons both stab and grab, the Great blue heron more typically favors the stab method over other styles more than other herons (such as the Great white heron.) (source)
What's more, though, is that while other herons will mainly stick to the stabbing method or the grabbing method, blue herons have been observed utilizing a huge range of tactics.
For one, they will sometimes hover in the air before dropping down feet-first so they can pick up prey right from the surface of the water. They also will venture to swim out in deep water in search of more elusive food.
Great blue herons also sometimes pick up dead fish that are floating on top of deep water, while they dangle their legs down and stretch out their necks forward, so as to use strong ocean winds to their advantage. (Essentially, great blue herons use physics to get food.)
They'll also opt for flashy, impressive tactics. If a fish jumps or a small bird is flying, they can swoop right in and grab that prey right out of the air.
Time Spent Hunting
And though herons may live near each other in an area, when they are hunting and feeding, they tend to stay solitary. (source)
Since hunting is a deal more strenuous than foraging, and since their prey tends to be small, herons require a lot of food. Typically, they will spend around 90% of their waking hours in hunt of a meal. (source)
Those hunting hours aren't regulated to just daylight – herons have specially adapted eyes that allow them to be are able to hunt for food during the day and also at night.
Herons who live near the ocean or saltier bodies of water have learned to adapt for comfort and conserving energy, too. Often, rather than hover or stand (or miss out on tasty fish that may be swimming out in deeper water), they will sit on floating kelp and leisurely wait for fish to swim by. (source)
Herons take their feeding territory quite seriously. If they are off on their own, removed from their colony, they will defend their claimed feeding grounds with gusto.
Displays of might include throwing their necks and heads back high, pointing their bills upwards and unfurling their full, massive wingspan.
Herons learn at a young age to fish. Since breeding seasons follow a pattern, most young herons tend to leave the nest in June or July and venture out to hunt for fish on their own for the first time.
In those cases, young herons often prefer small ponds or stocked garden ponds, as they present less of a challenge than wide streams or rushing lakes. (source)
A Heron's Physical Appearance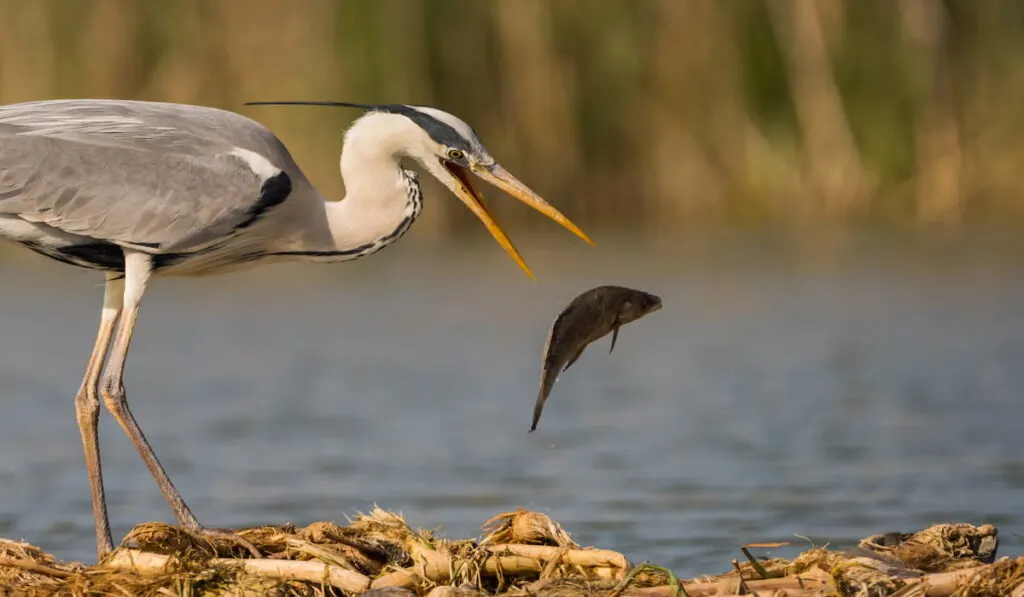 Herons bodies don't just look elegant – they serve a purpose, too! Their necks, distinctive in their own right, consist of uniquely shaped vertebrae that actually allow the heron to curl and flex their neck into its characteristic S-shape for both flying and safer, more effective hunting.
And, as mentioned before, their long, pointed bill is its best weapon. Evolution developed a tool that allows them to swiftly stab fish in the water, much like a human would if spearfishing.
The beak, though, is also large enough to be able to grab fish and animals, making it a dual-use hunting implement.
Heron Feeding Problems
Herons are pretty clever birds. Sometimes, their ability to rationalize translates into unexpected problems for others.
For example, herons are swift to figure out food sources. That means if there is a fish hatchery or stocked lake, they learn and will congregate there in large numbers, wreaking havoc for the humans that are running a facility. (source)
On the other hand, humans make plenty of problems for herons, too. Chemical pollution affects water sources, effectively poisoning and killing off multiple fish, which are the heron's main food source.
Also, erosion and excessive construction threaten wetlands themselves. As habitats dwindle, not only do herons have fewer places to live but so do their food sources, making this a twofold problem herons face: losing their homes and losing their meals.
Similarly, climate change also threatens their habitats and feeding grounds. As bodies of water warm up, fish migrate away. (source)
Do Any Animals Eat the Heron?
Though impressively sized, herons are not immune to being in the middle of the food chain and have a handful of natural predators. (source) Especially for young herons, mammals and other birds alike present a feeding time threat.
Herons are, in fact, so attuned to predator cycles, that if a member of their colony has been killed, they will promptly vacate the area and not return for some time.
Crows and Ravens
These stealthy scavenger birds keep an eye out for heron nests left unattended, and then swoop in and eat the waiting eggs. They won't attack hatched or grown herons, but their unhatched eggs make for a nice meal.
Raccoons
Yes, our furry-faced, paw-washing little friends are actually some cold-blooded heron and heron egg eaters. Though they are not quite large enough to tackle fully grown adult birds, they will on occasion, eat a baby heron. However, their main meal is heron eggs. When adult herons leave the nest, they raid them and eat the eggs.
Bald Eagles
Another predator of eggs and hatchlings alike is the bald eagle. They are a bit less sneaky than raccoons and more deliberate, as they will launch calculated attacks to drive adult herons from their nests and eat the eggs and the baby birds left inside. What's more, some eagles will even attack and eat adult herons as well.
Hawks
Hawks – specifically red-tailed hawks – may be on the smaller size of birds of prey, but they're still mighty.
Though their usual diet is mainly small snakes and small rodents, they also eat small heron hatchlings and young adult herons.
Great Horned Owls
These generally more nocturnal predators can expand their field mouse and small bird diet to also include herons. They do not see size as a challenge and will stalk and feed on adult herons.
Bears
Bears are generally thought of as large carnivores, so the fact that herons can be included in their meal plans is no surprise. They will most likely skip eating the eggs and feel comfortable attacking an adult heron for the most sustenance.
The eating habits of a heron are all linked well to its physical form, its habitat, and even the season or climate. And though they are certainly big fans of fish, the variety found in their diets can often be surprising.