*This post may have affiliate links, which means I may receive commissions if you choose to purchase through links I provide (at no extra cost to you). As an Amazon Associate I earn from qualifying purchases. Please read my disclaimer for additional details..
If you're looking for an outdoor adventure, consider exploring one of the many hiking trails in the United States that lead to waterfalls. There are hikes for every level of fitness and experience, so no matter what you're looking for, you'll be able to find a waterfall hike that's perfect for you.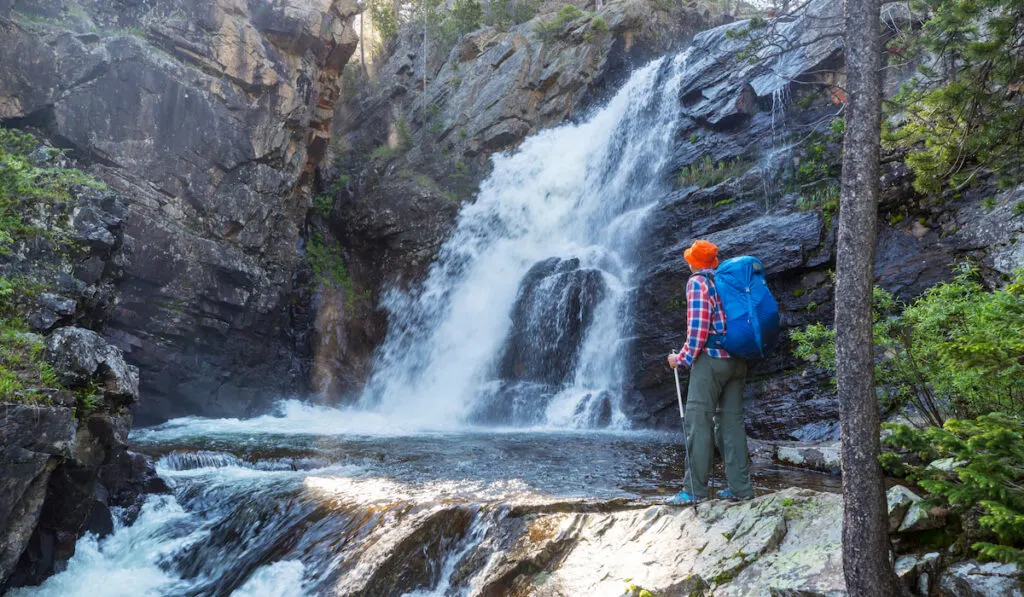 Types of Waterfalls
Waterfalls are classified into 10 types, each with its own characteristics.
Multistep Waterfalls – These waterfalls have multiple tiers, each one cascading into the next. An example of a multi step waterfall is Whiteoak Falls in Tennessee.
Fan – Fan waterfalls occur when water flows over a gently sloping rock face, creating a wide, fan-shaped curtain of water.
Horsetail – A horsetail waterfall is created when water flows over a steep rock face, creating a thin, curved sheet of water.
Plunge – Plunge waterfalls occur when water flows over a cliff and drops straight down, creating a column of water.
Punchbowl – A punchbowl waterfall is created when water flows into a bowl-shaped area surrounded by high cliffs.
Segmented – Segmented waterfalls occur when water flows over a rock face that  cuts it into at least 2 distinct flows of water.
Cataract – A cataract waterfall is a large, powerful waterfall. Cataracts are usually found on rivers. Niagara Falls is a great example of a cataract waterfall.
Block – Block waterfalls are rectangular and fall over a wide, vertical cliff.
Cascading – Cascading waterfalls occur when water flows down a series of rocky steps. They are more of a series of smaller waterfalls than one large waterfall.
Tiered – Tiered waterfalls occur when water flows over a series of rocky ledges, creating a staircase-like effect.
The United States is home to waterfalls of all kinds. Hiking in to see a waterfall is a great way to enjoy nature and see breathtaking sights. Some of the most popular waterfall hikes in the U.S. include:
Waimea Falls, Hawaii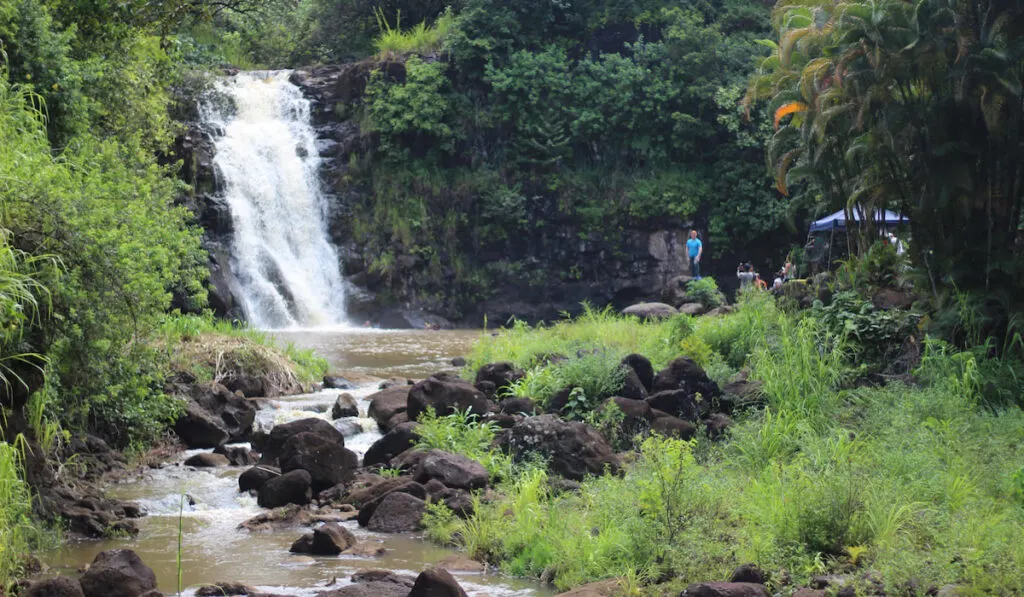 A short and easy hike, the 1.5-mile loop at Waimea Falls leads to a 45-foot waterfall that cascades into a pool you can swim in during certain times of the year.
The trail is located in the Waimea Valley, on the island of Oahu.
Bridal Veil Falls, Colorado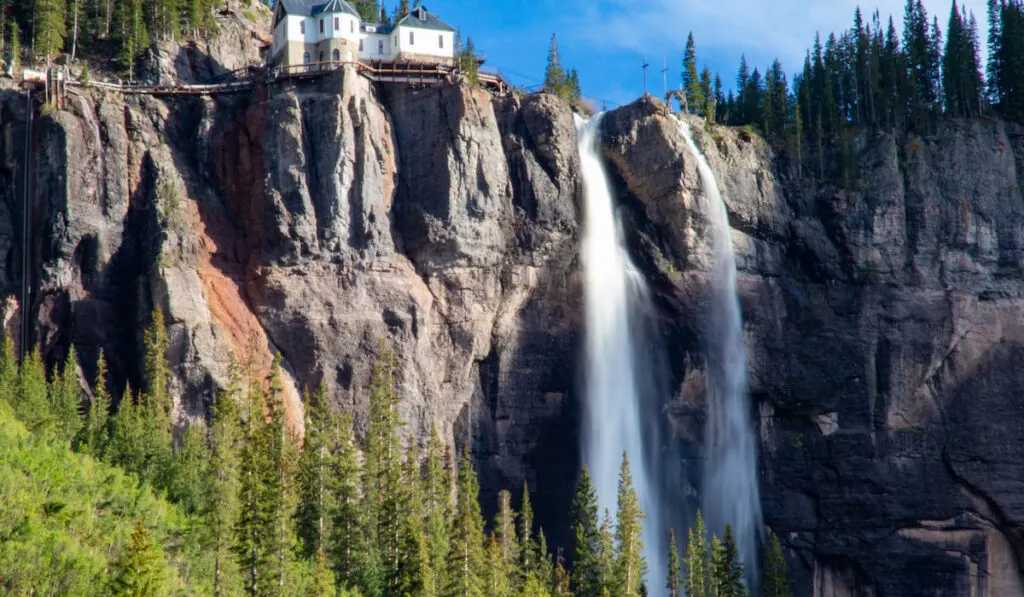 At 365 feet, Bridal Veil Falls is Colorado's tallest waterfall. The hike to see the falls is moderately difficult and is 4 miles, round trip.
Lower Yellowstone Falls, Wyoming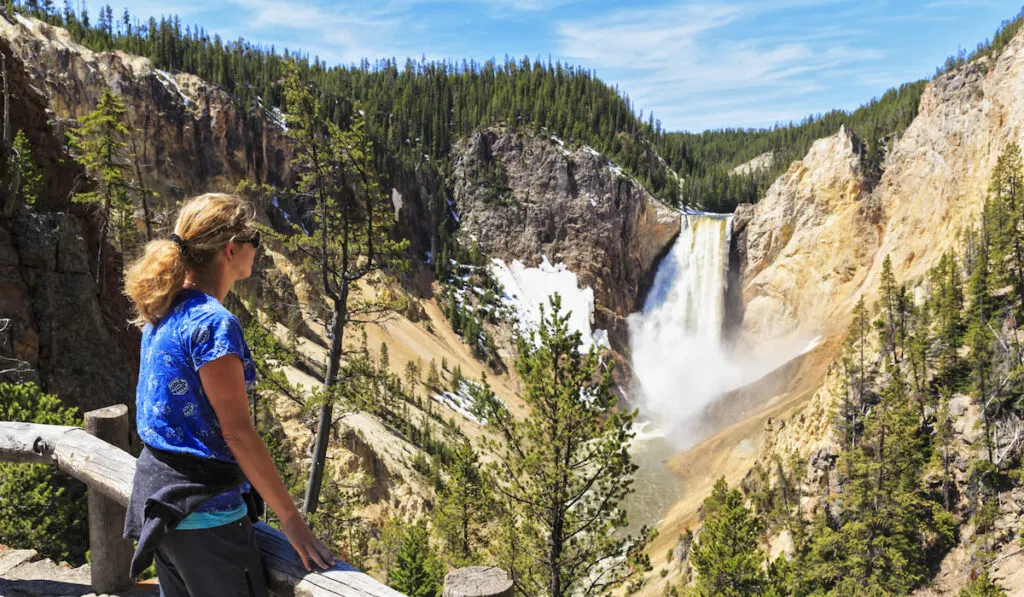 At 308 feet, Lower Yellowstone Falls is one of the tallest waterfalls in the park and simply massive in volume. The trail to see the falls is only .75 miles, round trip and is considered easy.
Grand Falls, Arizona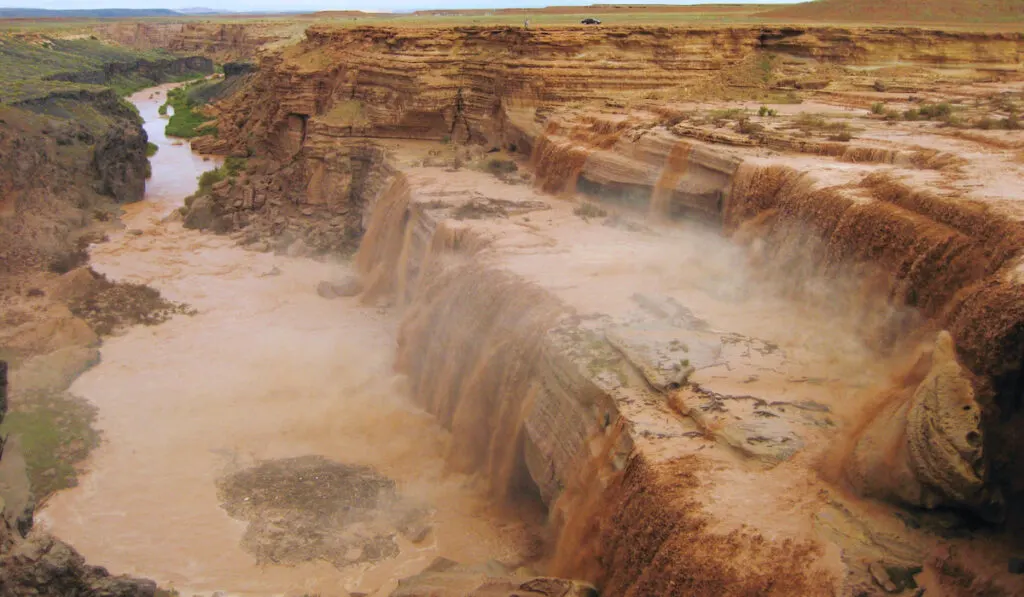 One of the most unique waterfalls in the country, Grand Falls is located on Navajo Nation land. The falls are a series of cascades that flow over red rocks into the Little Colorado River.
The hike to see the falls is 1.1 miles in and back and is considered easy.
Waimoku Falls, Hawaii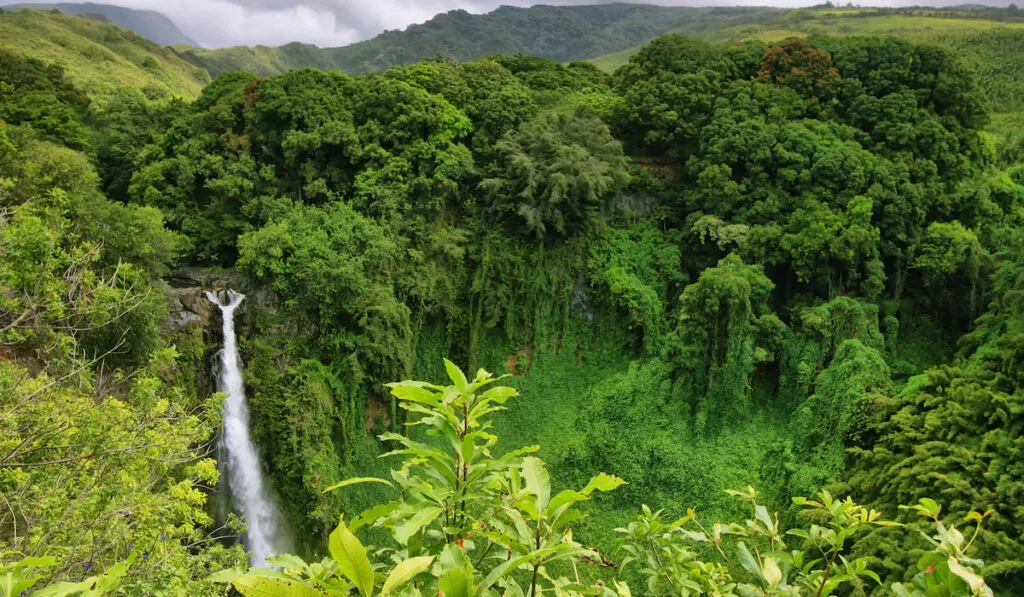 This 400-foot tall waterfall is one of the tallest in Maui and can be reached via a 2-mile hike. The trail is considered moderate in difficulty, as you hike through dense bamboo forest.
The lush view makes the hike well worth the effort.
Virginia Falls, Montana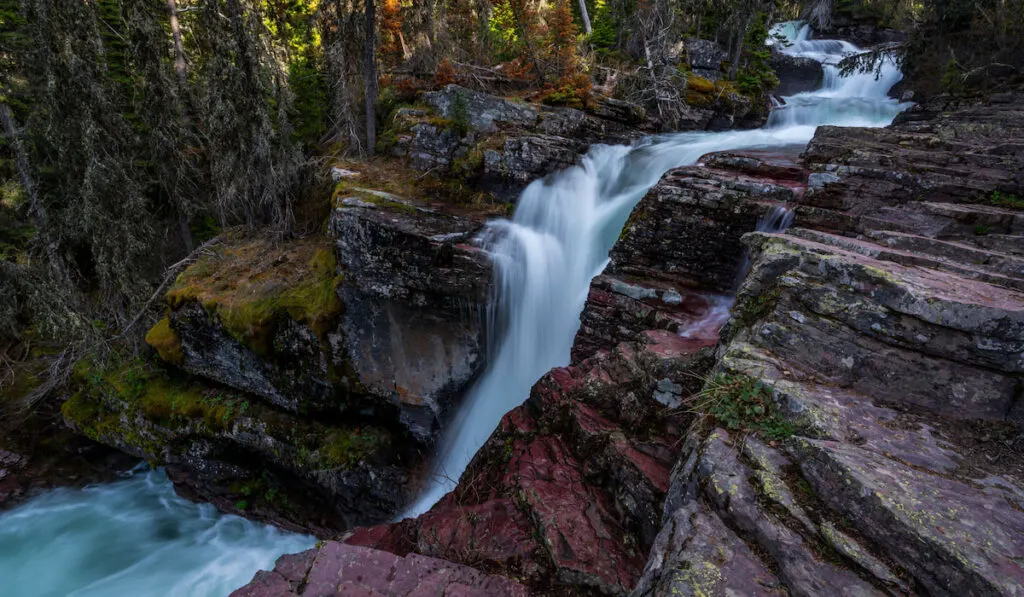 Virginia Falls is actually three waterfalls in one. The upper falls drops 50 feet and the lower falls plunges another 309 feet. Together, they are sometimes called the Niagara of the Rockies.
The hike to see the falls is 7 miles, round trip and considered strenuous.
Yosemite Falls, California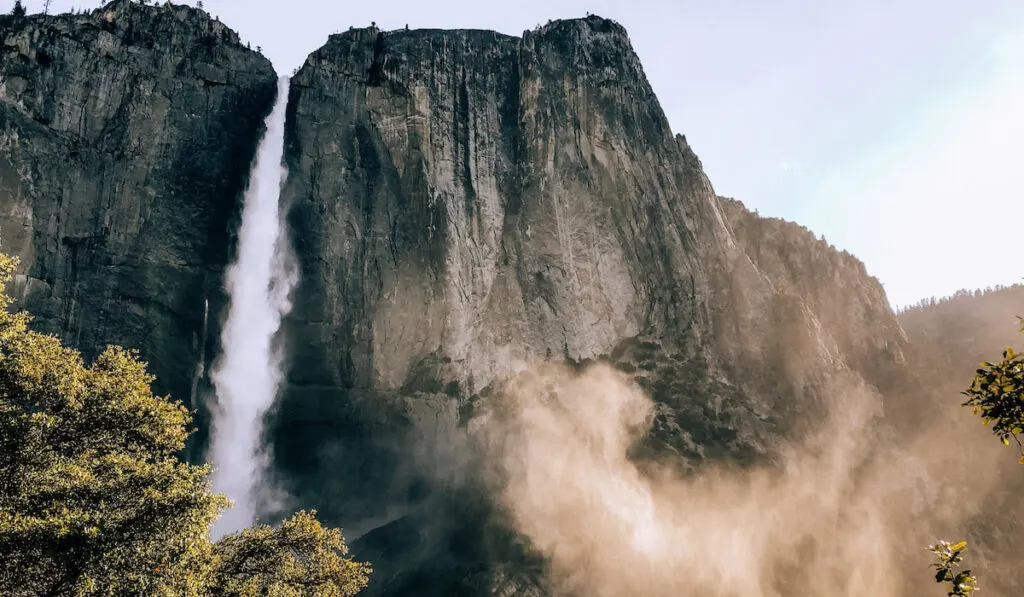 One of the most popular waterfall destinations in the country, Yosemite Falls is a must-visit. The hike in is 7.2 miles, round trip.
The massive cliffs and large volume of water make this one of the most impressive sights in the world. If you want to see a lot of waterfalls throughout your hike, this is a great place to visit.
Niagara Falls, New York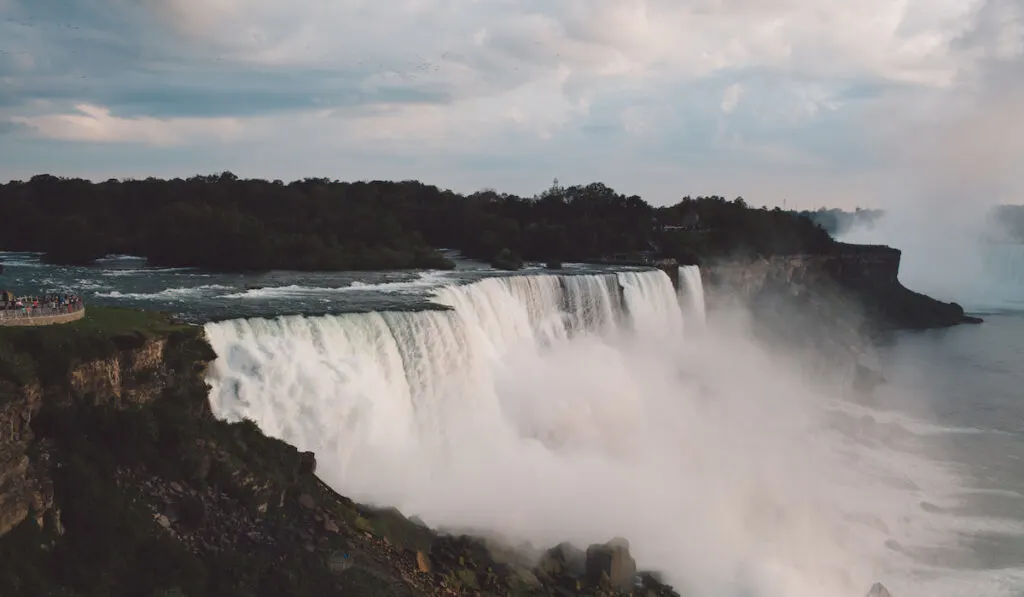 Arguably the most famous waterfall in the world, Niagara Falls is a sight to behold. It's often crowded, but it's easy to understand why: this powerful waterfall is extremely impressive.
You can hike in on the 2.2 mile Goat Island Scenic Walk.
Deer Creek Falls, Arizona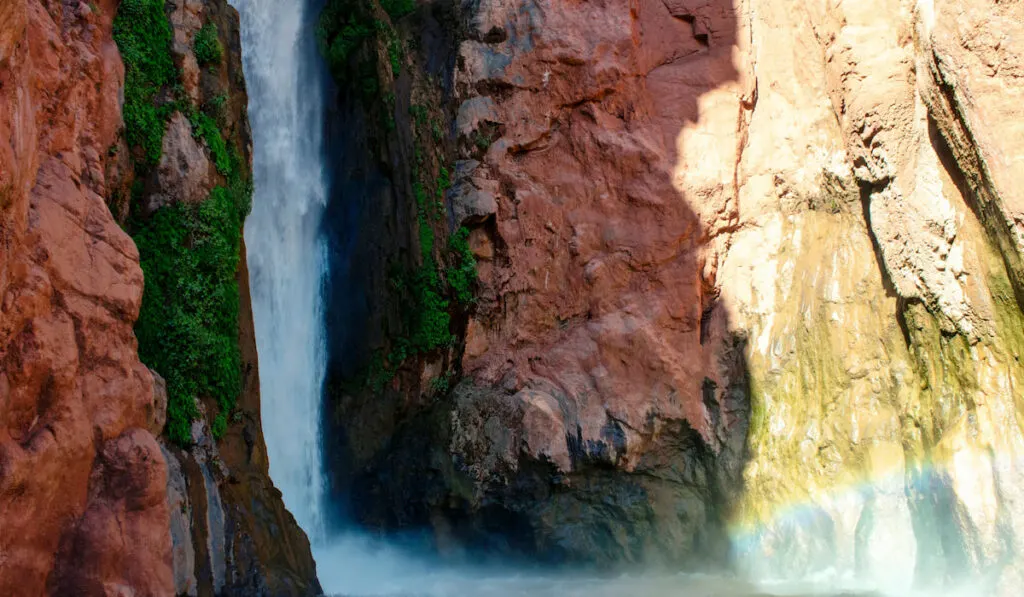 Deer Creek Falls is a remote 180-foot tall waterfall that can be reached via a several-day hike on the Deer Creek and Thunder River trails.
It's a tough hike that takes you through some stunning Arizona scenery.
Union Falls, Wyoming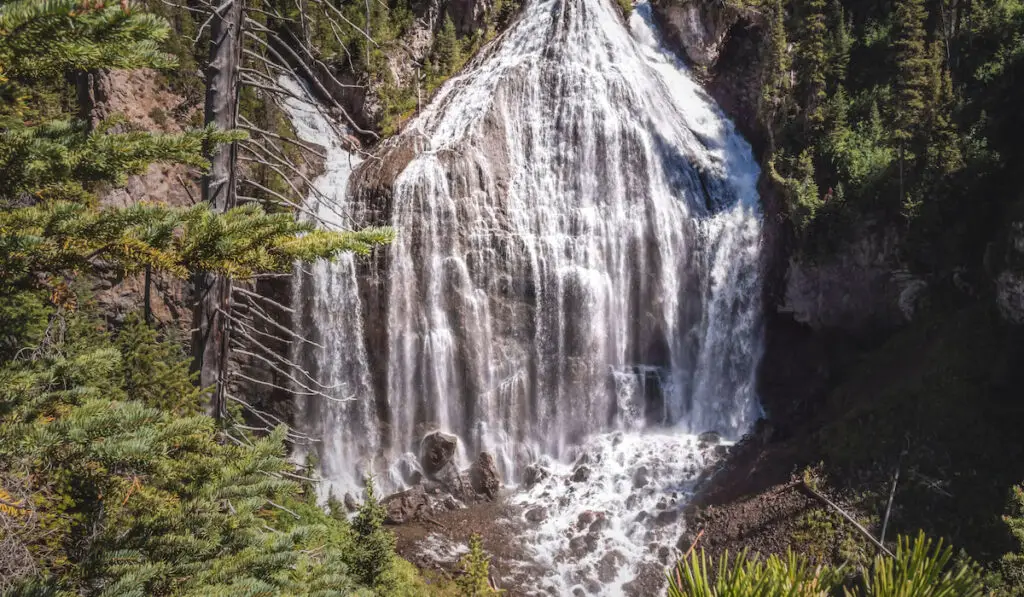 Another tough hike, Union Falls is located in Yellowstone and can be seen at the end of a strenuous 8 mile hike in.
The impressive falls are 250 feet high and come with bragging rights that few hold.
Trail of Ten Falls, Oregon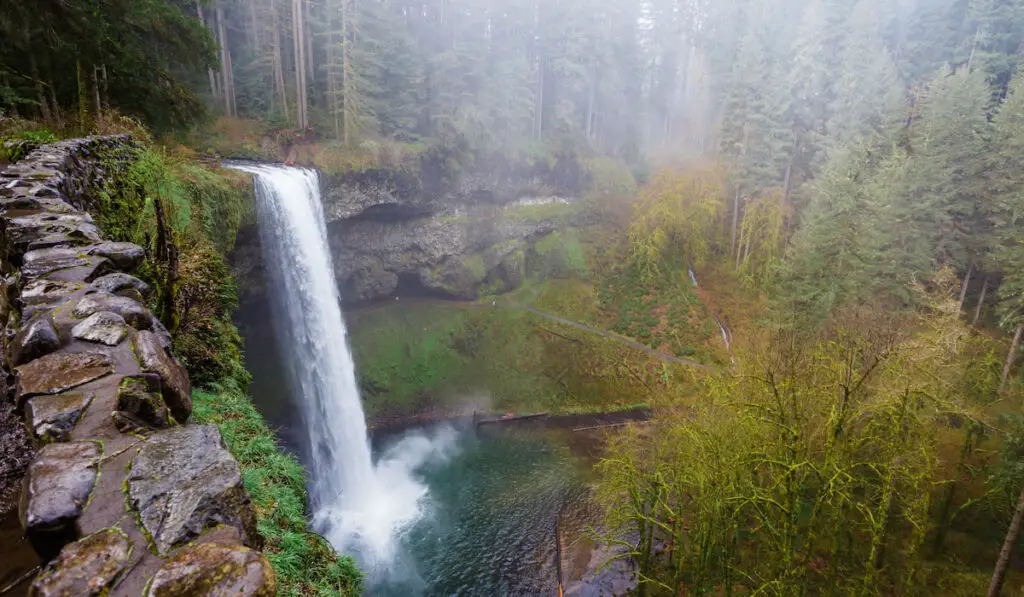 The Trail of Ten Falls is located in Silver Falls State Park and, as the name suggests, takes you past ten different waterfalls.
The trail is 12.2 miles and is a popular trail for hikers. If you want more solitude, it's better to visit in the middle of the week.
Bond Falls, Michigan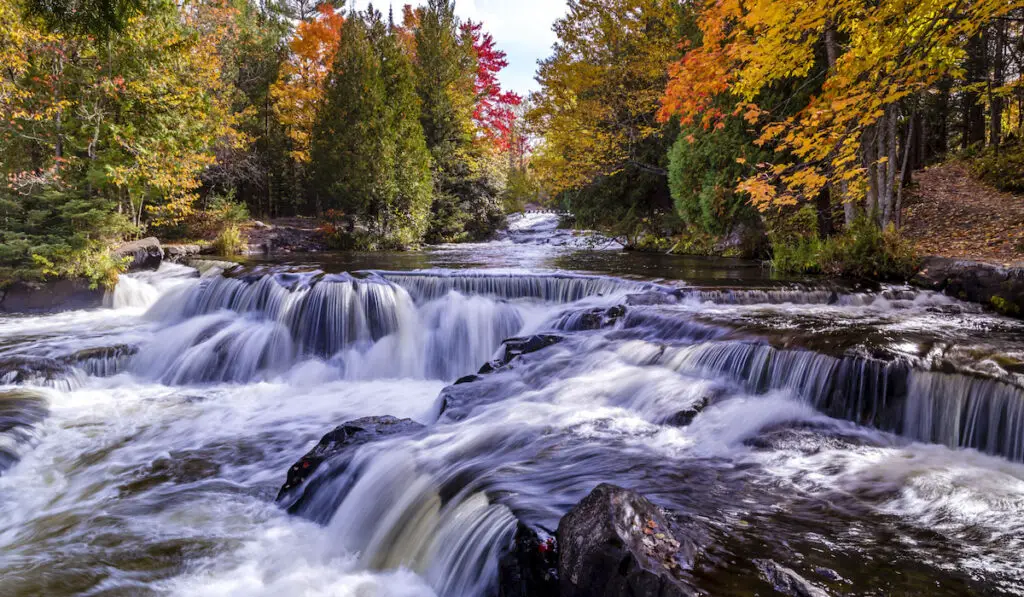 Bond Falls is a 50-foot waterfall that can be reached by a short and easy, half-mile hike. The falls are located in the Upper Peninsula of Michigan and are a popular destination for those who love waterfalls.
Kinsman Falls, New Hampshire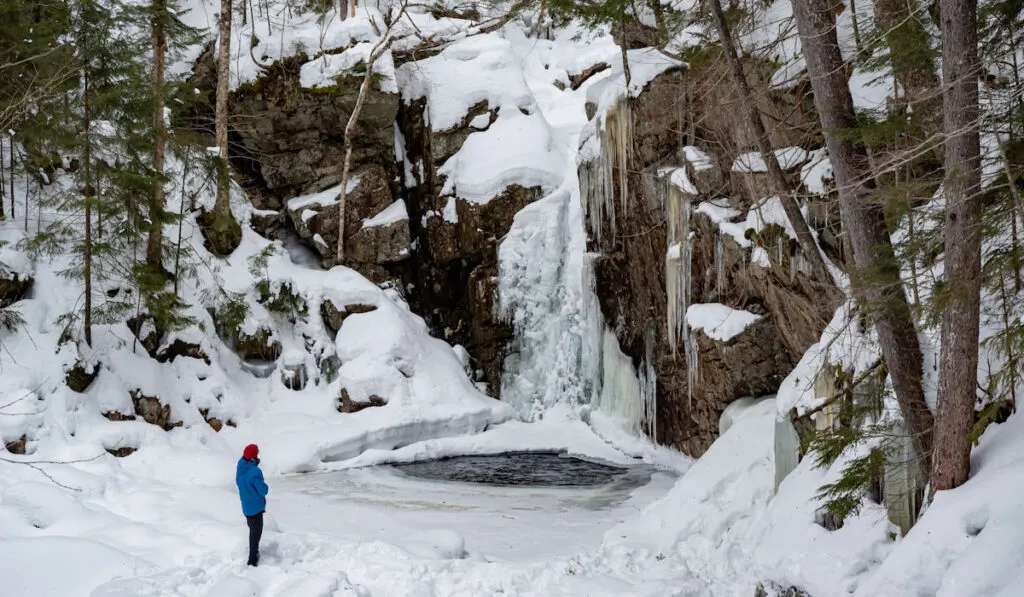 Kinsman Falls is one of many waterfalls located in the White Mountains of New Hampshire. The falls are quite narrow and are best seen after a rain, when they are at their fullest. The hike in is .5 miles and considered easy.
No matter what part of the country you're in, you'll be able to find a waterfall hike that's perfect for you. So get out there and explore!
Waterfall Safety Tips
If you're planning on hiking to a waterfall, there are a few things to keep in mind in order to stay safe. Here are a few guidelines for hiking near a waterfall: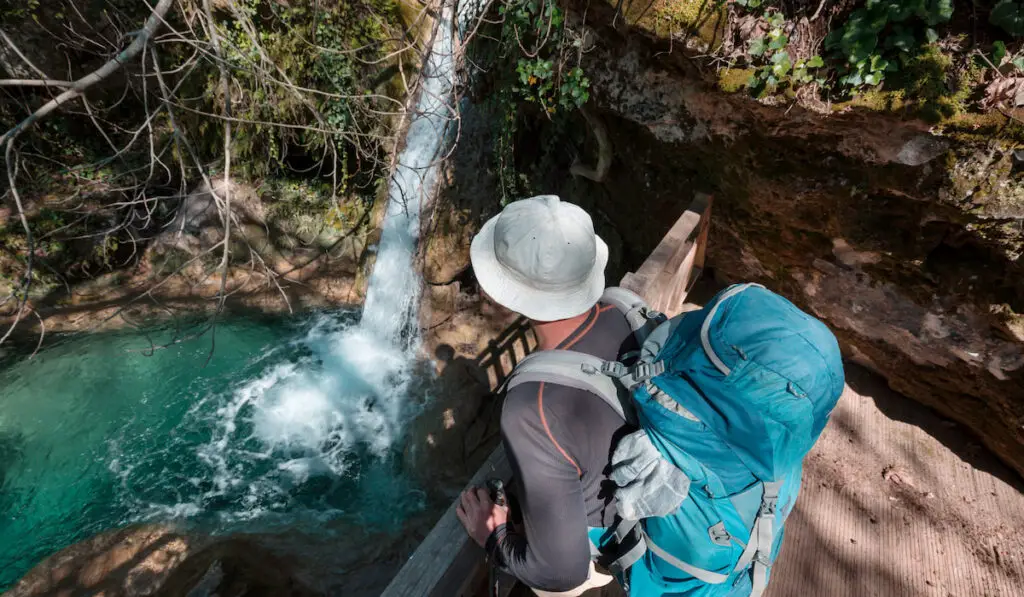 First and foremost, always check the weather forecast before starting your hike. If there is a chance of thunderstorms in the forecast, it's best to reschedule your hike for another day.
Be sure to wear proper footwear while hiking. Closed-toe shoes are a must as you will likely be hiking over rocks and slippery surfaces.
Stay on the marked trail at all times. Do not try to take shortcuts as this can be extremely dangerous.
If you're hiking with children, keep a close eye on them at all times. Waterfalls can be very dangerous and it only takes a second for an accident to happen.
Know your limits. If the hike is too difficult or you're feeling tired, rest. If you don't think you'll be able to finish the hike, it's better to turn around. You can always build up to more difficult hikes – safety first!
Wear sunscreen, even if it's overcast. The sun can reflect off of the water and cause sunburn.
Bring plenty of water, especially if it's a hot day. Dehydration is no joke and can ruin your hike.
Pack some snacks to keep your energy up. Hiking is taxing on your body.
Visit during the right season.  Depending on where you live, some trails may be closed due to snow or other weather conditions.
Waterfalls are one of the most beautiful natural features of the United States. And there are plenty of hikes that will take you to see them up close and personal. So get out there and enjoy the scenery!