*This post may have affiliate links, which means I may receive commissions if you choose to purchase through links I provide (at no extra cost to you). As an Amazon Associate I earn from qualifying purchases. Please read my disclaimer for additional details..
Solo hiking is becoming increasingly popular because you get to experience the trails freely, make friends on the go, and control your schedule. 
However, hiking alone, especially on the vast Appalachian Trail, can be terrifying at first. You may not know whether you'll encounter wild animals, unexpected weather, or criminals.
Knowing how to protect yourself is essential when hiking.
Is it safe to hike the Appalachian Trail alone?
It's safe to hike the Appalachian Trail alone as long as you're fit enough and take necessary precautions. Studying your route beforehand, sharing your itinerary with a friend, and staying alert will keep you as safe as possible.
However, solo hiking on the Appalachian Trail can also be dangerous if you get lost, injured, or encounter stormy weather.
Read on to find out more details on whether it's safe to hike the Appalachian trail alone. We also give you tips on everything you need to know about hiking this unique trail and how to protect yourself when solo hiking.
Should You Hike the Appalachian Trail Alone?
Yes, it's safe to hike the Appalachian Trail alone.
The Appalachian Trail stretches for 2,100 miles through 14 states and is one of the most scenic trails in the states. Some shelters and campsites exist along the trail where you can take refuge, or you can explore the hostels and motels if you are a solo hiker. 
However, solo hiking on the Appalachian Trail can also be dangerous if you get lost or injured. Sometimes you might encounter bad weather and have to walk some miles to get to a campsite or a motel.
Safety Precautions When Solo Hiking the Appalachian Trail
Although people have successfully hiked the Appalachian Trail, understanding what safety measures to take can help you feel relaxed and comfortable hiking alone. 
Here are a few personal safety and awareness tips.
Alert Someone of Your Plans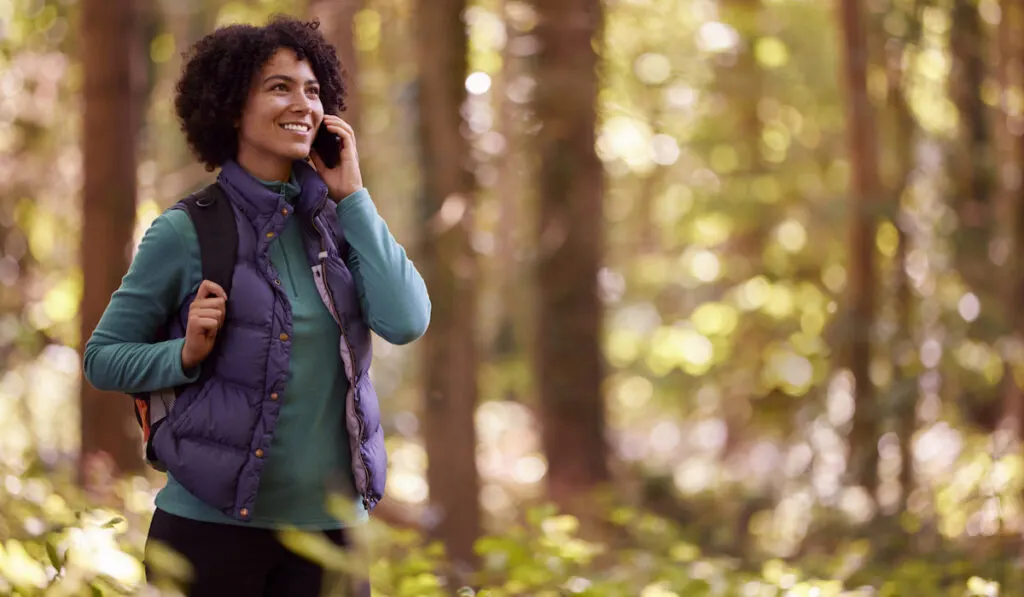 When going for a long-distance hike, let someone know your itinerary and leave them with an Appalachian Trail Thru-Hikers' companion guidebook.
Call and check in to let them know where you are and where you plan to be next.
You should also tell the other person what to do if you fail to show up or check in when expected. Also, alert them of any change in your plans.
Be Aware of Your Surroundings
You must stay alert and pay attention to your surroundings and the people you encounter. Look out for red flags or anything that seems suspicious.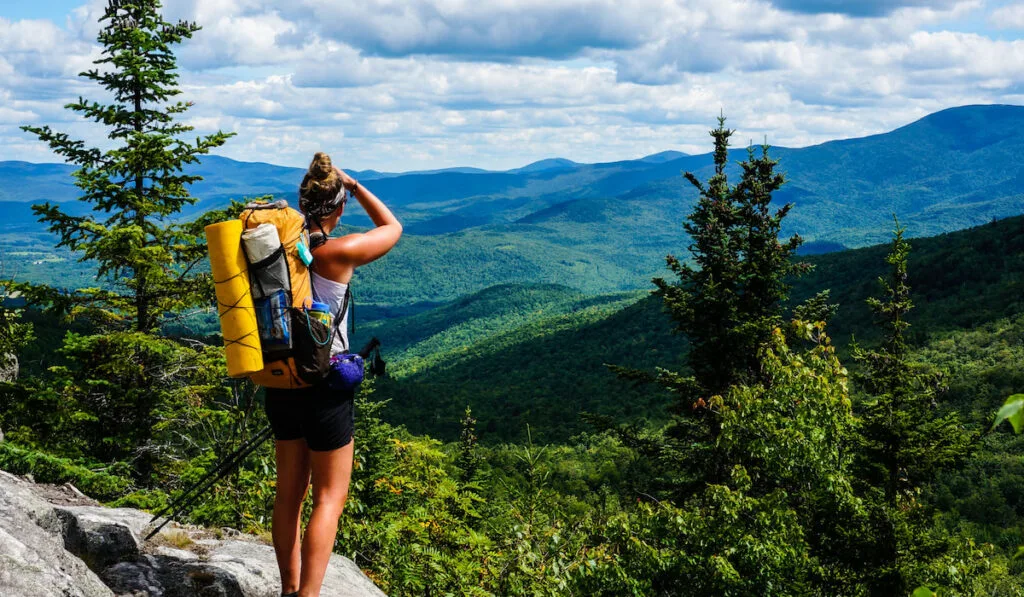 Camp away from roads and avoid crowded campsites as they pose a greater risk. Choose a place to set up your tent that's not easy to see from the trail. 
Avoiding a dangerous situation is better than trying to get out of one. Interact with strangers but trust your instincts when something doesn't feel right.
Don't go hitchhiking or accept rides when alone. Find an alternative route or turn back if near a town.
Avoid telling people about your solo hiking plans.
Look for a friendly group to tag along with if you feel at risk. 
Furthermore, don't leave your equipment, gear, or other personal belongings unguarded, especially in a vehicle. These items might make you an easy target.
Understand Where to Hike
If this is your first attempt at hiking alone, choose a popular, well-marked trail for your first hike. That allows you to hike solo without being isolated. 
Solo hikers who are social and like to meet other people during the hike prefer walking north and begin their hikes in April. Hikers heading north gain daylight as they go on due to the earlier start date.
The northbound route is also great for hikers looking for a challenging experience. 
Most people prefer walking south during June because of time limitations. Additionally, hiking south is more accessible as the big mountains are located in the north.
Going on a southbound hike is an excellent choice if you also need to avoid a large group of hikers or the summer heat. 
Be Prepared Mentally and Physically
You're likely to encounter certain risks when hiking the Appalachian Trail alone. Sometimes your phone may fail to work due to poor connection, or you may encounter a suspicious stranger.
Note that the Appalachian Trail (AT) doesn't have cell service on the entire length.
You won't always be able to text or call someone while hiking the AT alone. The only option is to carry a satellite messenger device or a beacon. 
Be prepared mentally for such risks and think about these situations ahead. That will help you know how to respond and act in such scenarios.
Study and Carry the Trail Maps
Get a current Appalachian Trail map, study it, and know how to use it in case of an emergency. That will help you describe your location in case you get lost.
Knowing the trail can also help you know the shortest way to get to a certain town or road if you need to leave in a hurry. 
Additionally, bring a compass to help you navigate back to safety.
Bring a First Aid Kit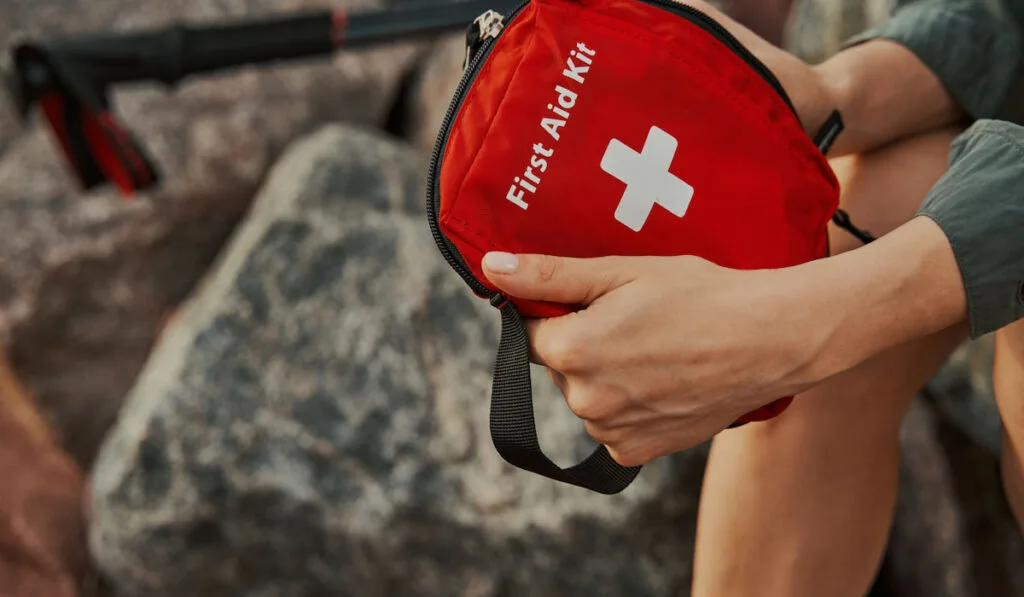 Carry a first aid kit and learn how to use it before going for a hike. That will help you handle any minor injuries you may encounter along the way.
Prepare for Bad Weather
While checking the current weather when planning your hike is essential, sometimes you can get caught up in bad weather. You can be hiking when sunny, only for it to start raining.
You must be prepared for unplanned storms, wind, and other weather changes. 
Ensure that you bring appropriate clothing in case the weather changes. Bring clothes and other items that will keep you dry and warm. 
Get Proper Gear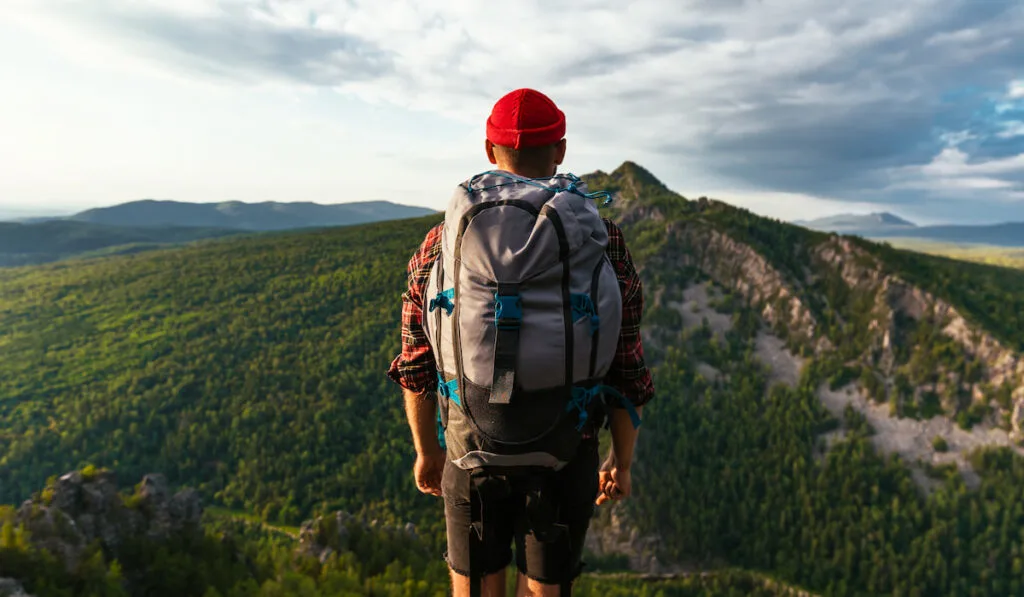 Take time to understand your gear and practice with it before leaving for the trail. That comes in handy, especially for solo hiking, as you need to know how to set things up and disassemble them quickly in an emergency. 
Remember, when hiking alone, you are responsible for your safety. Understanding your limitations and where you excel with your gear will help you have an enjoyable and relaxed hiking experience. 
Why Should You Hike the Appalachian Trail Alone?
You should consider going on a solo hike on the Appalachian Trail for the following reasons.
Experience Nature Alone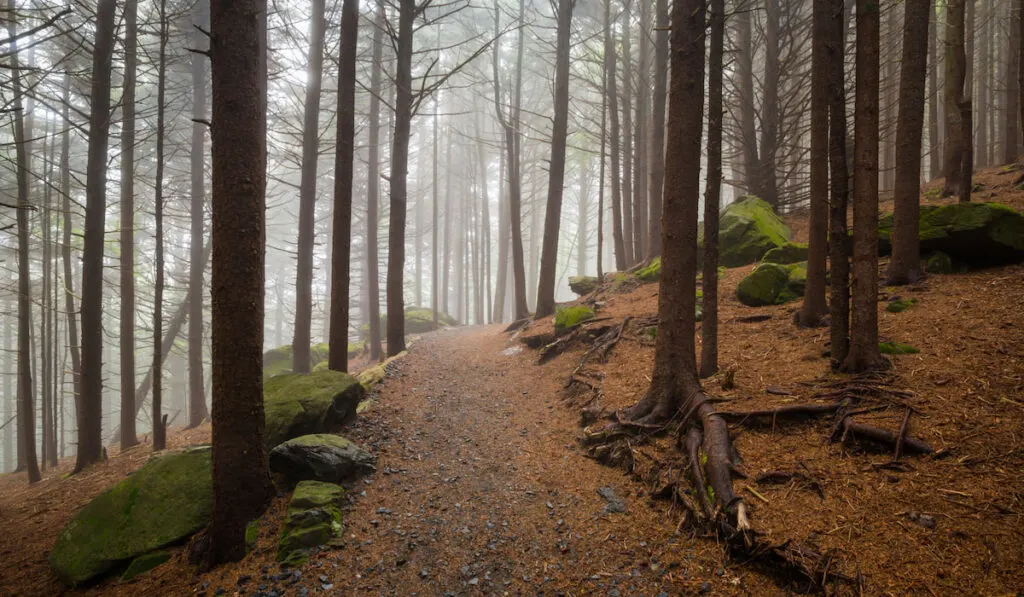 Finding yourself in nature is an excellent way to elevate your overall mood and escape from the noisy and busy world. You also get to experience what nature has to offer without another person's interference.
Boost Your Self-Confidence
Going on a solo hike allows you to do everything yourself, building reliance and self-confidence. You get to be accountable for every decision you make and learn essential skills along the way. 
Experience Freedom
If you're looking for some time and mental clarity, you should consider hiking the Appalachian Trail alone. 
Being isolated from other people, your phone, and a constant internet connection allows you to have some quiet time alone where you can meditate and re-live some of your best memories.
Final Thoughts
Hiking the Appalachian Trail is safe and provides a rewarding experience for solo hikers and those traveling as a group. 
However, it's essential always to be ready for any eventualities. Familiarize yourself with the trail by studying the map ahead of time, being cautious of your surroundings, and alerting someone of your itinerary.
Researching and preparing for challenges that lie ahead will make you better prepared and lead to an enjoyable solo hiking experience. 
Resources