*This post may have affiliate links, which means I may receive commissions if you choose to purchase through links I provide (at no extra cost to you). As an Amazon Associate I earn from qualifying purchases. Please read my disclaimer for additional details..
One of the worst parts of owning a tent is that, at some point, it needs to be cleaned. Cleaning a tent can be tricky if you're caught out in a rainstorm or if your tent starts to smell after a sweaty summer camping trip.
A lot of people wonder if they can simplify things and stick their tent in the washing machine.
Can you wash a tent in a front-loading washing machine?
While not every tent is machine-wash ready, plenty of newer tents can go in front-loading washing machines or whatever other type of washing machine you have. Before you throw your expensive tent in the wash, check the tags or look online to read up on the cleaning instructions. If you throw a tent in the washing machine that is not supposed to go in there, it will get ruined.
While it's tempting to machine wash your camping gear, especially a dirty tent, save yourself the headache of fixing a broken tent by figuring out how to best clean it before tossing it in your washing machine. Here's what you need to know.
What Happens in the Washing Machine?
High-quality tents are frequently made of delicate materials to lessen the tent's weight and increase breathability. Then, when things get hot, you'll be glad you paid for a premium tent with thin walls letting the air move through.
If you try to wash a tent in a front-loading washing machine when the instructions explicitly say to only handwash the tent, then you can't really blame anyone if attachments snap, zippers break, or you see runs in your doors or walls.
The bottom of most tents is made of tarp-like material.
This tough underbelly can take a beating, but other parts of the tent, like the doors or mesh tops, may not react so well to tumbling around a washing machine. Seams around edges and zippers can also come loose with too many cycles.
How to Machine Wash a Tent
If your tent is absolutely filthy and there's nothing you can do to clean it by hand, then throwing it in a front-loading washing machine may be your best bet.
First, however, here are some things to keep in mind to lower the chances of ruining your tent.
Don't Overload the Washing Machine
Do your best not to pack the appliance too full of your tent and other camping gear. Instead, try to run the washing machine with just your tent inside.
That means no canopy, tarp, sleeping bags, or other equipment. Just run the cycle with only your tent inside to avoid it colliding with other objects during the cycle.
Run a Delicate Cycle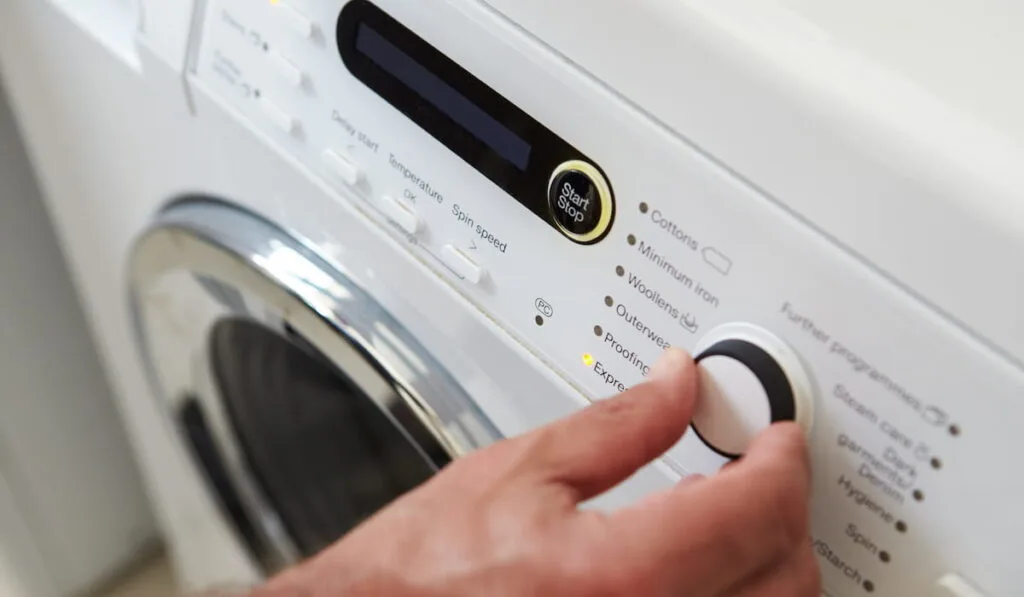 Don't leave the settings on "permanent press" or some other heavy-duty wash cycle. Instead, go with delicates, and limit how long your tent is inside.
Consider Taking the Tent Out Early
If you want to be on the safe side, you can take the tent out before the spin cycle begins. Air drying your tent on a line or driveway can get your tent clean without having to run the spin cycle.
Once the tent goes through the rinse phase of the wash, take it out, and let it air dry outside.
You Might Have to Treat Your Tent After a Machine Wash
Keep in mind that many tents are treated with weatherproofing sprays before the sale. For example, modern tents repel water well because manufacturers spray them with waterproofing before they hit the shelves.
When you put a tent in the wash that's not supposed to be machine-washed, there is a chance you'll reduce its ability to stand up to poor weather conditions.
Some tents are also UV-proofed to prevent sun damage, so you may need to account for that as well.
Cotton vs. Polyester
Your tent's material matters a great deal when it comes to how it will do in the washing machine.
Typically, cloth tents made of cotton, for example, are more robust and can survive a cycle in the wash. However, lighter-weight materials like nylon may not do so well.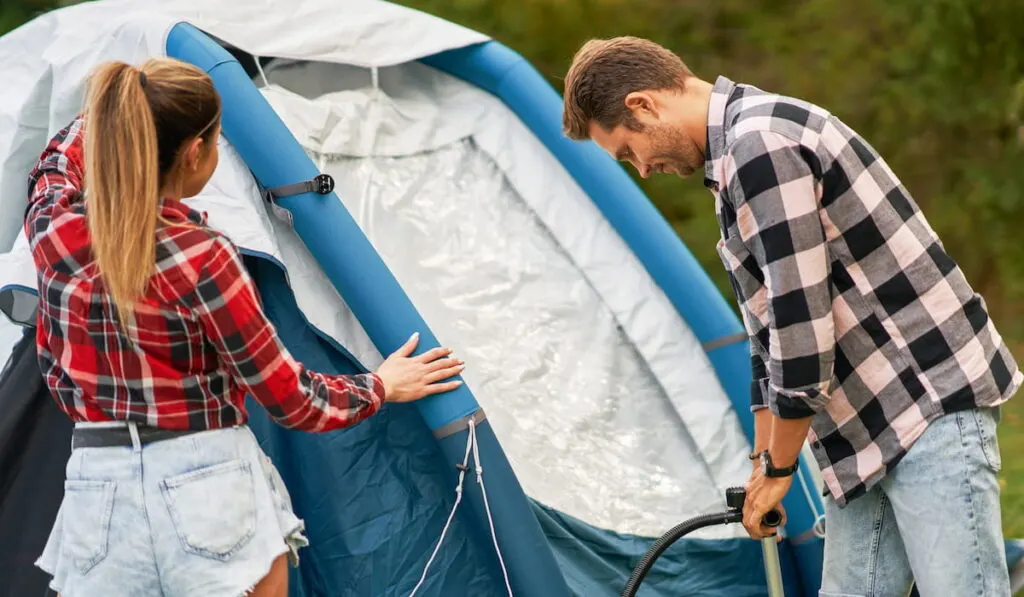 Synthetic tents are thinner and more delicate.
As a result, you may regret washing a synthetic tent in the washing machine, especially if the directions tell you not to. In those cases, washing your tent by hand is typically your best bet.
How to Wash Your Tent by Hand
Washing a tent isn't easy.
Especially if you've been camping in the rain and mud, it can seem impossible to get the dirt and marks off of the interior and exterior of your tent. It feels like no matter how many times you wash the surface, it dries dirty, and you have to start over from zero again.
If you want to keep your tent clean and avoid damaging it in a front-loading washing machine, here are some steps that you should follow.
Step 1 — Keep Your Tent Clean While Using It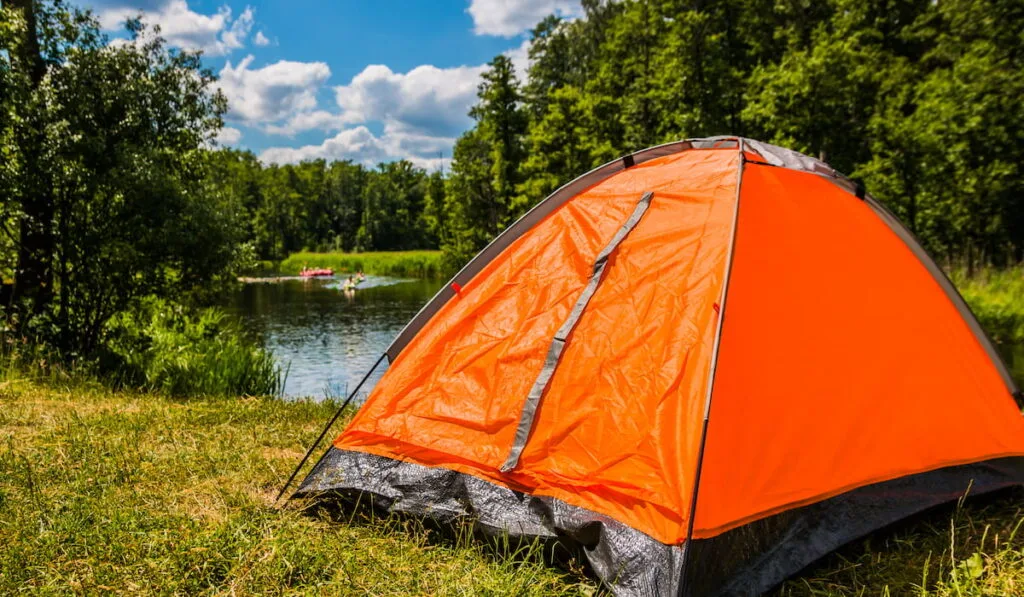 The best way to clean your tent is via regular upkeep. You'll go longer without washing your tent if you avoid tracking dirt and mud inside.
Also, set it up properly. For example, put the canopy on if you're expecting rain, and make sure the tent is secured close to the ground to prevent water buildup.
Also, air out your tent to avoid musty smells.
Cleaning your tent every time is no fun, so make sure you stay on top of normal upkeep so you don't have to wash it every trip.
Step 2 — Set the Tent Up at Home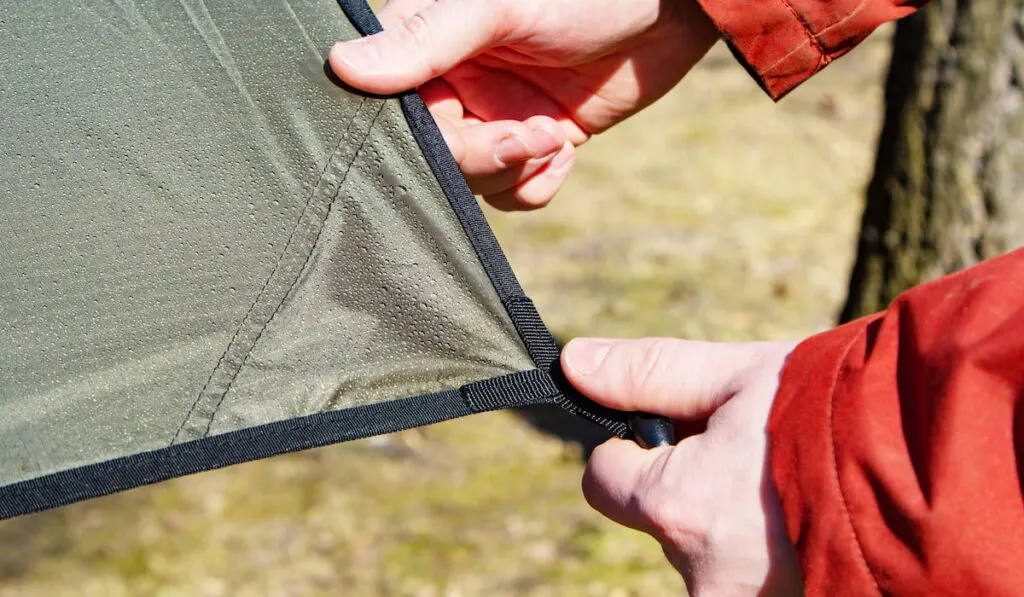 If your tent is due for a wash, you won't do a good job unless you set it up fully. Then, when erected, you can see where it needs cleaning.
The water and soap also have places to run off of the tent. It will take a lot longer if you don't set it up, so just bite the bullet and put the poles in.
Step 3 — Mild Soap and a Garden Hose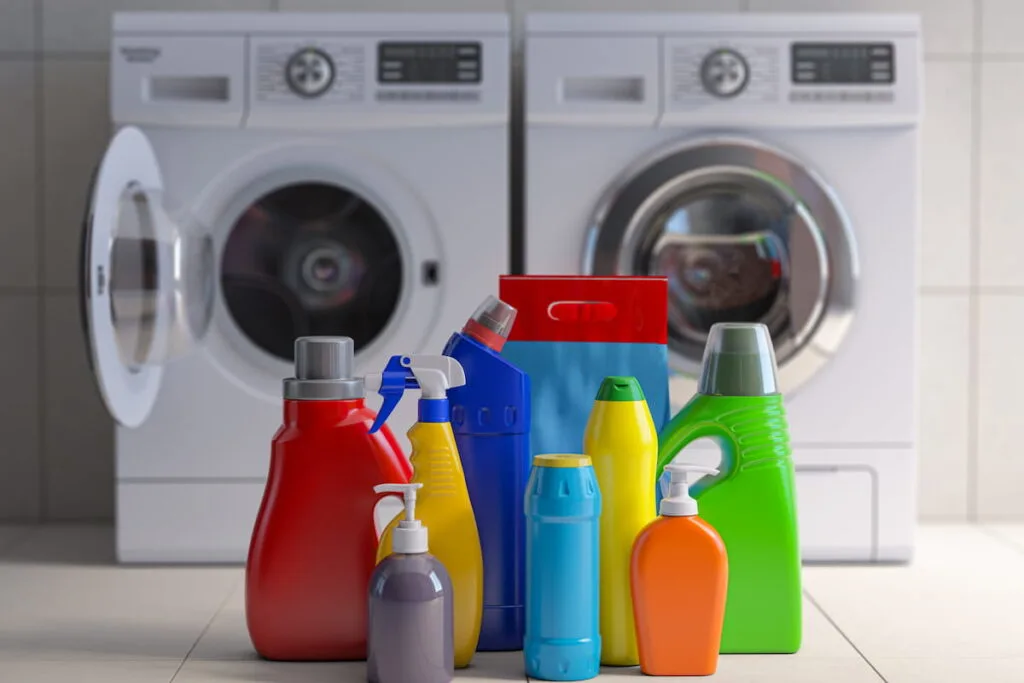 Most tents don't need strong soap. They are made of smooth materials designed for runoff.
So you only need some dishwashing soap, a sponge or two, and some towels. Then, of course, you'll need water, but a garden hose does just fine.
An adjustable head on your hose will help you change pressure for tough, dirty spots or clumps of mud.
Step 4 — Scrubbing Your Tent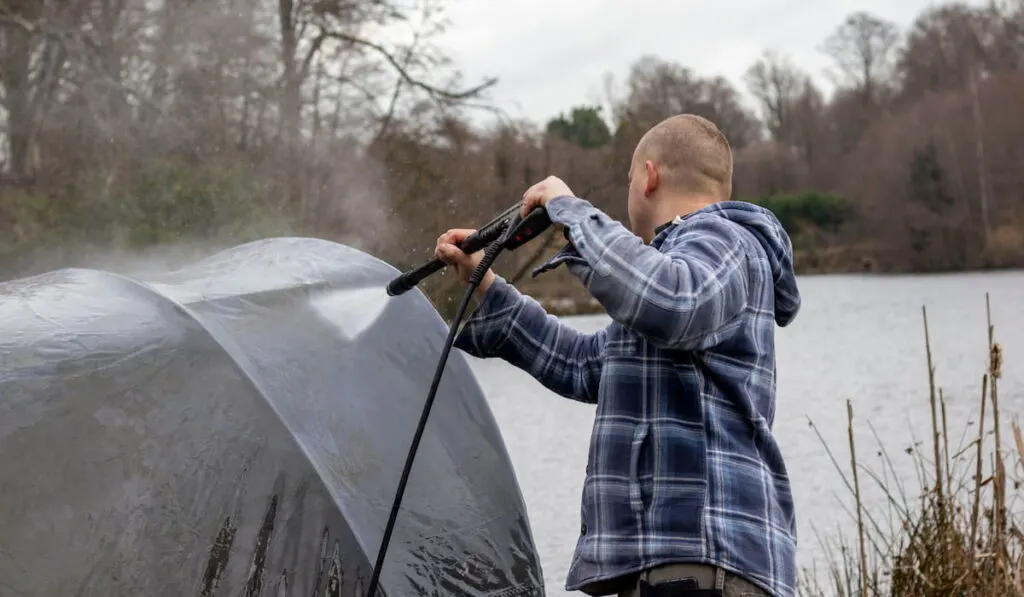 Then, you have to scrub dirty spots and rinse them off with the hose. Let your tent dry completely to avoid any mold growth or strange smells once you pack it away again.
Remember, you may have to scrub and rinse a few times, depending on how dirty your tent is.
Consider Soaking Your Tent
If your tent is filthy, or you don't feel like setting everything up at home, then you may want to soak your tent in the tub or a paddling pool.
Then, all you do is simply fill the container or tub with soapy water and leave your tent soaking for a few hours.
When it's done, you can line-dry your tent or set it out in the sun until all of the water is out.
A Final Thought
You're most likely better off just keeping your tent clean, especially if you pay a lot of money for a premium tent.
Resources