*This post may have affiliate links, which means I may receive commissions if you choose to purchase through links I provide (at no extra cost to you). As an Amazon Associate I earn from qualifying purchases. Please read my disclaimer for additional details..
When you start buying camping gear, you'll quickly discover that sizes are typically recommended. They also vary a good deal from brand to brand.
For example, a Coleman tent won't be the same size as an REI tent, and the same goes for clothing, sleeping bags, and other gear.
So can a four-person tent fit a queen air mattress?
A queen mattress will fit relatively easily into most four-person tents. However, it will end up occupying most of the floor space, which is something to keep in mind if you need to keep things like backpacks in your tent overnight.
Most tents offer size guidelines in their product descriptions that outline whether it will fit a queen-size air mattress, so be sure to check online or in-store before buying your tent.
Here's some helpful information on tent sizes and what you can expect in terms of fitting the right air mattress inside.
General Tent Size Guidelines
Your average four-person tent will measure approximately 60 square feet.
A queen mattress fits rather easily inside without bumping up against the walls. This helps avoid pushing the walls out, which can lift the outside edges and affect your tent's ability to handle water from rain or any other source.
Pushed walls also mean your ceiling will hang lower, which will impact your ability to stand up if that's another feature you're looking for in a tent. Either way, it's generally something you won't have to worry about.
If you don't need a ton of space, you'll find that you can even fit a queen-sized air mattress in a two-person tent. People hear about two-person tents and immediately think they'll be incredibly small.
How Big Is a Queen Mattress?
Queen mattresses usually measure around 80 inches by 60 inches. Each brand will vary a little, but they won't be significantly larger or smaller.
People often find that queen air mattresses look and feel somewhat smaller than regular mattresses.
Other mattress sizes:
King Air Mattress: 85 x 72 inches
Queen Air Mattress: 80 x 60 inches
Twin Air Mattress: 75 x 50 inches
Inflatable Sleeping Pad: 73 x 22 inches
Inflatable sleeping pads come in all shapes and sizes to fit different body types. So depending on your tent size, you can gauge what type of mattress you'll need to sleep most comfortably.
Queen Air Mattresses Fit in Smaller Tents
You may think that you need to buy a four-person tent to fit an air mattress inside. However, those tents are pretty big.
You'll quickly find that your queen air mattress will fit with plenty of room to spare.
So you can get by, but odds are you'll be sleeping up close with your hiking boots, packs, and food.
Still, if you're focused on keeping your tent size as small as possible, you'll do just fine with a two- or three-person tent.
The Fit Depends on How You Camp
Are you a minimalist camper? Or are you someone who likes to pack for every contingency?
The size of your tent and what mattress you buy will depend on how much stuff you bring with you.
For the minimalist camper or someone who likes to fit everything for a trip in the trunk of their car, a queen mattress in a two-person tent is your best bet.
You won't have enough room to stick a full-sized cooler in the tent with you. But if you drive to the site, you can always use your car for storage.
If, on the other hand, you love to feel comfortable, walk around your tent, and stay organized on a multiday trip, then buying a bigger tent is a good idea.
You'll have enough room to operate, and your bed won't get messy from people walking all over it during the day.
If you're sleeping on a queen-sized air mattress, you're likely more of a creature-comfort camper, so you may need more space for lanterns, places to hang towels, etc.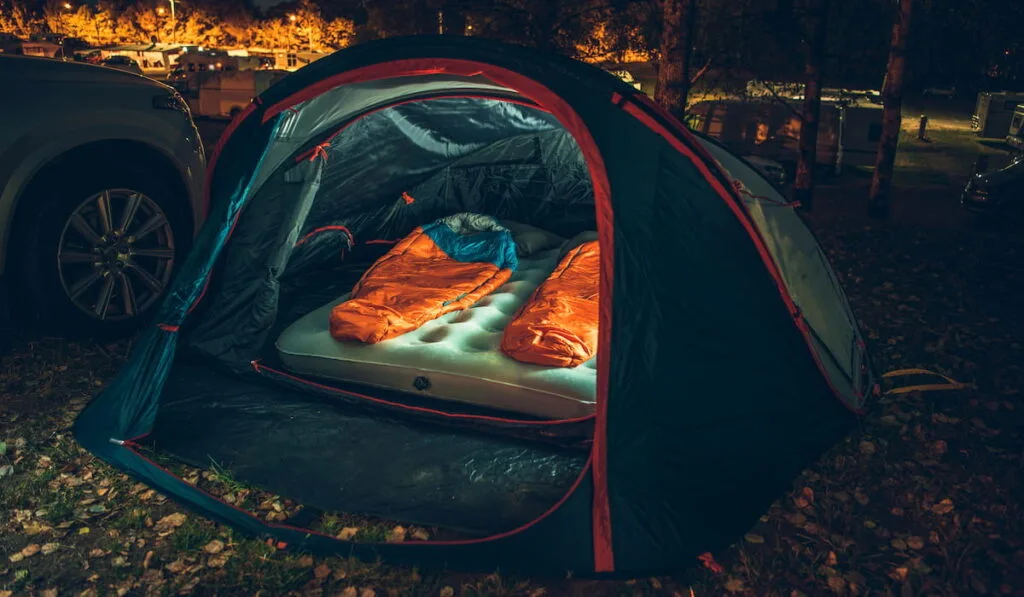 The Best Way to Fit Your Mattress in the Tent
The best way to fit your mattress of any size into your tent is to fill it up once you are inside.
Don't make the mistake of inflating the mattress outdoors because tent doors are often pretty small to keep bugs out.
For example, if you have a pump that attaches to your car outlet, you may have trouble reaching the mattress inside the tent. Your best bet is a handheld mattress pump that works on battery power.
Many queen-size air mattresses meant for camping also come with replaceable battery slots attached to the mattress. With a few D batteries, you can get your tent inside, fill it up, and keep it nice and firm through the night.
Push the air mattress as far back into the tent as possible. You may think you'll be good at taking off your shoes every time you go in and out of your tent, but, inevitably, it will rain, or you'll forget something inside that's not worth taking your shoes off and will step on the mattress and get it dirty.
There won't be a ton of space, but even a foot or so in the doorway will give you room to navigate and put your shoes down when it's raining outside.
Ways to Sleep Comfortably without a Queen Air Mattress
If you're worried about your air mattress taking up most of the floor space in your tent, other workarounds will help you sleep comfortably without having to fit a larger mattress inside.
Here are some things that you can try.
Sleep Separately
Packing a queen air mattress is nice because you only have to pack one bed. However, you'll have more flexibility if you and whoever you're camping with sleep separately. It's a camping trip, so it's not like you need to cuddle all night.
Inflatable Sleeping Pads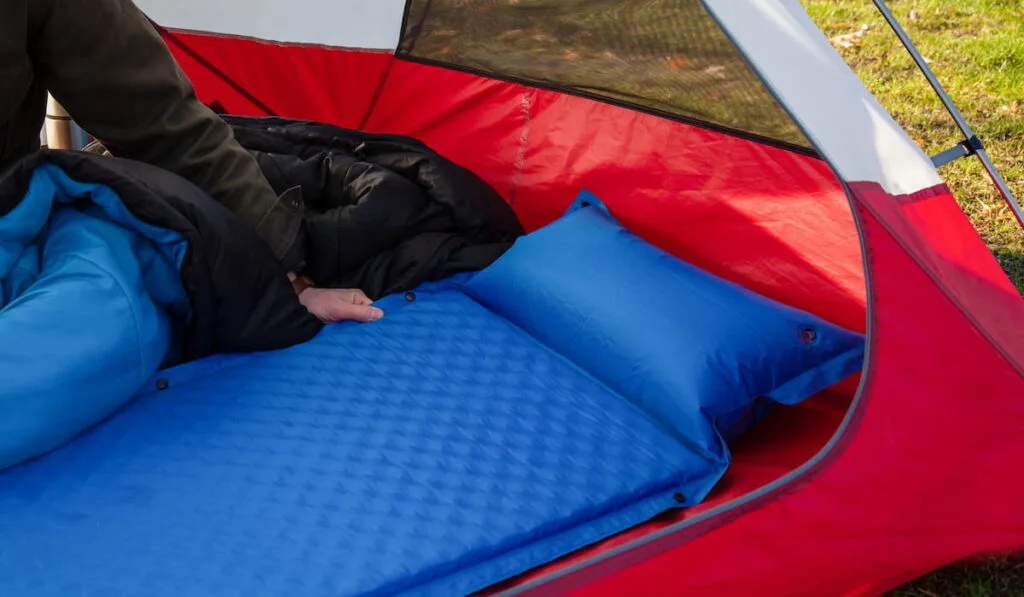 You can buy two different sleeping pads that fit your body size perfectly. They're easier to pack, and you don't have to worry about sleeping on an uneven mattress if your partner is a lot heavier or lighter than you are.
Cots
Sleeping cots are another great choice, especially for campers who like to stay in one spot for multiple nights.
You're off the ground with cots, so you don't feel the rocks on your back. You can also use the space underneath for storage.
If you want, you can combine your mattress pad with your cot to make it feel almost like a regular bed.
Foam Pads
Foam pads aren't as comfortable as air mattresses but require much less setup, and forgetting batteries won't ruin your trip.
You can buy them in different thicknesses and lengths, so comfort will depend on how much weight and space you want to carry along with you on your trip.
Conclusion
Before buying any mattress, ensure the measurements fit your tent size. You'll save yourself a headache during setup and the frustration of feeling like you don't have any space inside your tent.
Resources